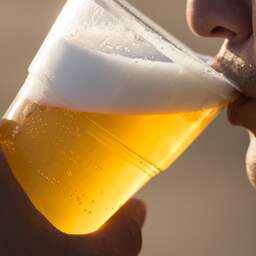 There are many types of festivals. But a 'festival' that this paper usually refers to is, simply put, a series of rock bands and lots of beer in plastic cups on a meadow. Amersfoort had just such a festival on Saturday in the green between Vathorst and Nijkerk: Willems Wondere Weiland (WWW).
It started twenty years ago as a birthday party for Willem Stapelbroek. Willem moved to Japan, but the party continues under his brother Erik. Like Dias Latinos, this party also went off without a hitch. Lots of traffic without the site becoming unlivable. Pleasant weather and an atmosphere of 'we are allowed again'.
One difference was that more bands and fewer DJs performed on WWW. The artists come to play on a voluntary basis. That atmosphere was already there when The Four Horsemen played the first notes in the scorching sun in the afternoon. Immediately visitors started headbanging. At the end of the set, the lead singer promised 'extra energy', on the condition that we all go moshpit together. That's jumping back and forth, smashing your shoulders together.
That too happened, and all kinds of ages were represented. Older rockers also come to the party these days; not so slim anymore but still a leather jacket, the thin hair still just as long. Many visitors wore a T-shirt with inscriptions: names of bands, cities of tour schedules and English curses.
Also striking: the contrast between the lyrics and the atmosphere. The bands had names like Martyr (martyr) and The Monolith Death Cult. The lead singer of The Four Horsemen roared: 'I wanna die!'. It was all supposed to be like that and the atmosphere remained great.
---