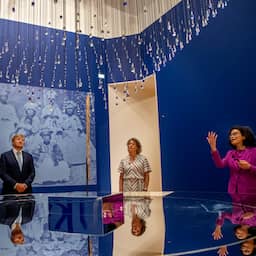 On our reaction platform NUjij, visitors can discuss the news and ask the editors questions. We receive tens of thousands of responses per week. In this weekly column we list the best contributions and discussions.
Reparations for descendants of enslaved persons
Last week, NU.nl was dominated by racism. Every day we posted thematic articles on this topic, and users could talk to each other about statements. On Wednesday, the statement was: "'Descendants of enslaved people should receive reparations".
Reader Hanzzie agrees, but also makes some practical comments:
"I am in favor of the proposition that, in principle, the Netherlands should make reparations to the next of kin of people who have been enslaved by the Netherlands. However, I do see problems looming around the feasibility."
"Firstly, it must be possible to demonstrate a link that the Netherlands has actually sold a certain person into slavery. And secondly, it must also be possible to demonstrate family ties of the person enslaved at the time with any surviving relatives."
"Since it seems to me that the above questions cannot usually be answered, we probably need to come up with something else to make it clear that we, as a country, are serious about leaving this dark chapter behind us."
"You can think of specific aid to countries where we were active in order to further build their country. It also seems clear to me that we have a special and lasting responsibility to the people of Suriname."
Consequences for role in benefits scandal
On Monday, the NUjij people could discuss the statement 'People should be punished for a role in the allowance scandal'.
Reader Ruijzemuis argues for changing the system, instead of punishing individuals:
"In my view, the system fails, not specifically a person. With the addition that we ourselves are responsible for the horrific complexity of the system and the total transparency that comes from social media (which means that for every problem (even if it is a very small problem) ) a solution must be made in the rules)."
"Add to that the fact that people also abuse and that a culture of accountability has arisen and you get files like this one. Of course it didn't go well; a cabinet even stumbled over it. But the focus must be on simplifying and preventing."
Dutchcollective would like to see consequences for the people who were responsible for the scandal:
"I agree. Various laws have been knowingly violated. The culture of power and the sense of inviolability among top civil servants must come to an end. Civil servants in particular should set an example."
"I think that punishment should also be more severe. These officials have not only destroyed entire families with children, but also put the integrity of government organizations in a bad light."
The best NUjij responses are selected based on the number of people who click on the 'respect' button and substantive substantiation. The comments are not selected by political leanings – we do try to make a balanced selection, however.
---