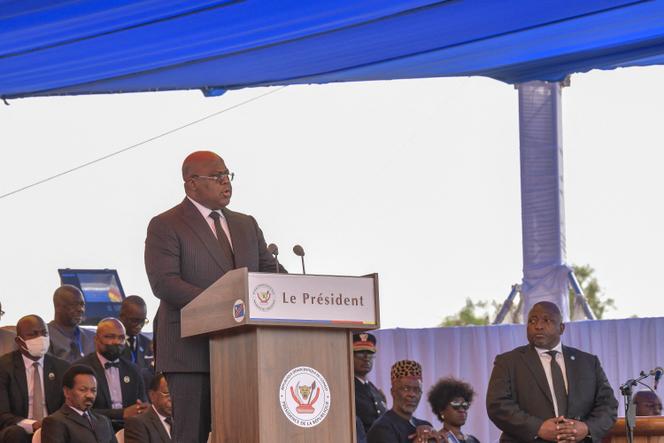 Congolese President Félix Tshisekedi, in Kinshasa, June 30, 2022. ARSENE MPIANA / AFP
The President of the Democratic Republic of Congo (DRC), Félix Tshisekedi, deplored Thursday, June 30, the 62nd anniversary of his country's independence, "the umpteenth aggression on the part of Rwanda" and affirmed his determination to oppose a "double diplomatic and military front" to the violence in the east.
"The celebration of this day takes place in a particularly worrying security context, which affects our existence as a nation", declared the president in a speech broadcast on national television. "Our country, he said, is facing yet another aggression from Rwanda, which is acting under cover of the M23 terrorist movement, in violation of all international agreements and treaties. The March 23 Movement (M23) is a former Tutsi-dominated rebellion which, defeated in 2013, took up arms again at the end of 2021. Kinshasa accuses Kigali of supporting this rebellion, which Rwanda denies.
Read also: Between the DRC and Rwanda, a crisis that is becoming more radical
"I will spare no effort to […] the aggressors are repelled out of our territory", assured the Congolese president. "Our option for peace and our sense of good neighborly relations are not a weakness", he affirmed, promising to use "all legal remedies" so that "the Congolese people live definitively in the peace and tranquility in its territory". The Head of State defended the establishment in May 2021 of a state of siege in two eastern provinces, Ituri and North Kivu, plagued for almost thirty years by violence from armed groups. This measure, increasingly criticized, is bearing fruit, he said in substance.
Call for "general mobilization"
To put an end to this violence, he said, "we have resolved to direct our efforts towards the double diplomatic and military front". He notably mentioned the recent decision of the East African Community (EAC) to deploy a regional force in eastern DRC "in order to contribute to the definitive eradication of violence and insecurity". "I demanded and obtained that Rwanda not participate, because of its commitment alongside the terrorist group M23", he insisted.
Read also: DRC: arrest of anti-Rwandophones "carrying machetes" in Kinshasa
The president also pledged his support to the Armed Forces of the DRC (FARDC) and launched to the population "a solemn appeal for general mobilization" to "intensify the unfailing popular support which does so much good to the morale" of the combatants. "My appeal is addressed in a very particular way to our youth, whom I invite to enlist massively in the FARDC and in the national police," he added.
To not miss any African news, subscribe to the World Africa newsletter from this link. Every Saturday at 6 a.m., find a week of news and debates covered by the editorial staff of Le Monde Afrique.
---