For a long time, Tim van Rijthoven was seen as a great tennis promise who failed to live up to the high expectations, but in a month's time he has become an absolute sensation. Novak Djokovic is waiting for a place in the quarterfinals of Wimbledon on Sunday. "As a tennis association, we doubted whether we should continue to support Tim financially."
Mistakes due to pressure or sheer awkwardness; nobody would blame Van Rijthoven if he had some cold feet at his first Grand Slam tournament. Instead, the Dutchman radiates tranquility on the 'holy grass' of Wimbledon as if he is finishing a recreational game at the local tennis club.
"I sometimes thought he was a bit too relaxed," his coach Igor Sijsling even told ANP news agency about Van Rijthoven after his great victory over Nikoloz Basilashvili in the third round. Nevertheless, the Georgian, the number 26 in the world, was put aside without any effort in three sets by the global number 104.
In an sometimes impressive way, Van Rijthoven finally shows the world that it is right that he is ascribed a great future. That is happening at a rapid pace, because the native Roosendaler had never won an ATP match four weeks ago. Since his debut in Rosmalen, the grass tournament that he won out of the blue, he has gone eight games in a row without defeat. Big names such as Félix Auger-Aliassime and the global number one Daniil Medvedev already had to believe it.
His advance does not come completely out of the blue, because Van Rijthoven has been regarded as a great talent for a long time. In 2014 he reached the quarterfinals of the Wimbledon junior tournament by beating Andrey Rublev, but the dreamed professional career did not materialize for a long time. Injury and other setbacks got in the way. Van Rijthoven no longer won any tournaments and lost financial security. He thought about quitting, but it remained a consideration.
Tim van Rijthoven wrote history in June by winning the Rosmalen grass tournament.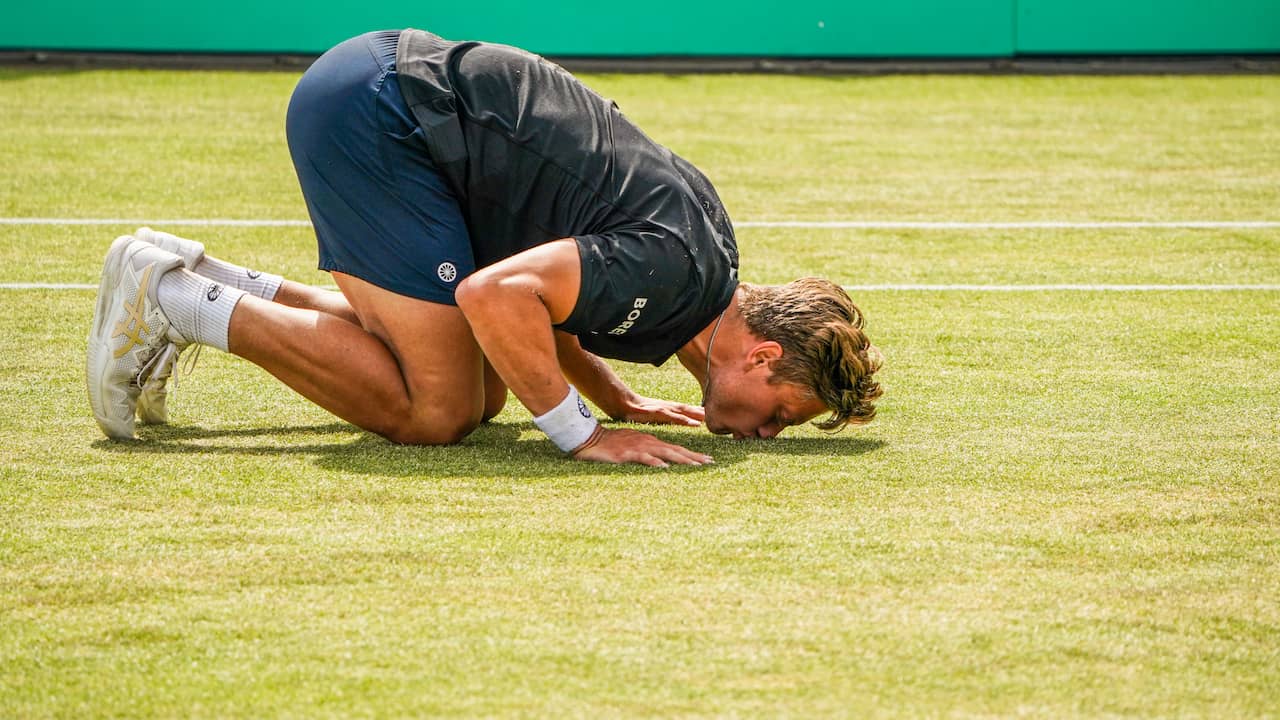 Tim van Rijthoven wrote history in June by winning the Rosmalen grass tournament.
Photo: Getty Images
'He owes this success to himself'
Van Rijthoven persevered, partly thanks to the KNLTB. The Dutch tennis association saw the potential in the promising talent and decided to continue to support him (financially), even when it no longer looked like he would fulfill his promise. That was not a matter of course.
"There was a moment when we as an association doubted whether we should continue to support Tim," says technical director Jacco Eltingh of the tennis association in conversation with NU.nl. "In the end, he has always been motivated and grateful. That was decisive for us."
"As an association, we gave Tim a kick in the ass, but that is also necessary to achieve success. He has always stuck a lot of energy in his career, also financially. Tennis is an expensive sport. couldn't save the association's support either, but he owes his success to himself."
Since June there has been no beat for sensation Van Rijthoven, whose apparently simple wins at Wimbledon even surprise Eltingh. "I never expected that he would beat such good players in such a short time. He plays a bunch of players away, then you can no longer speak of luck. He has grown up and the puzzle pieces are now falling together."
Tim van Rijthoven is rapidly fulfilling the high expectations of his career.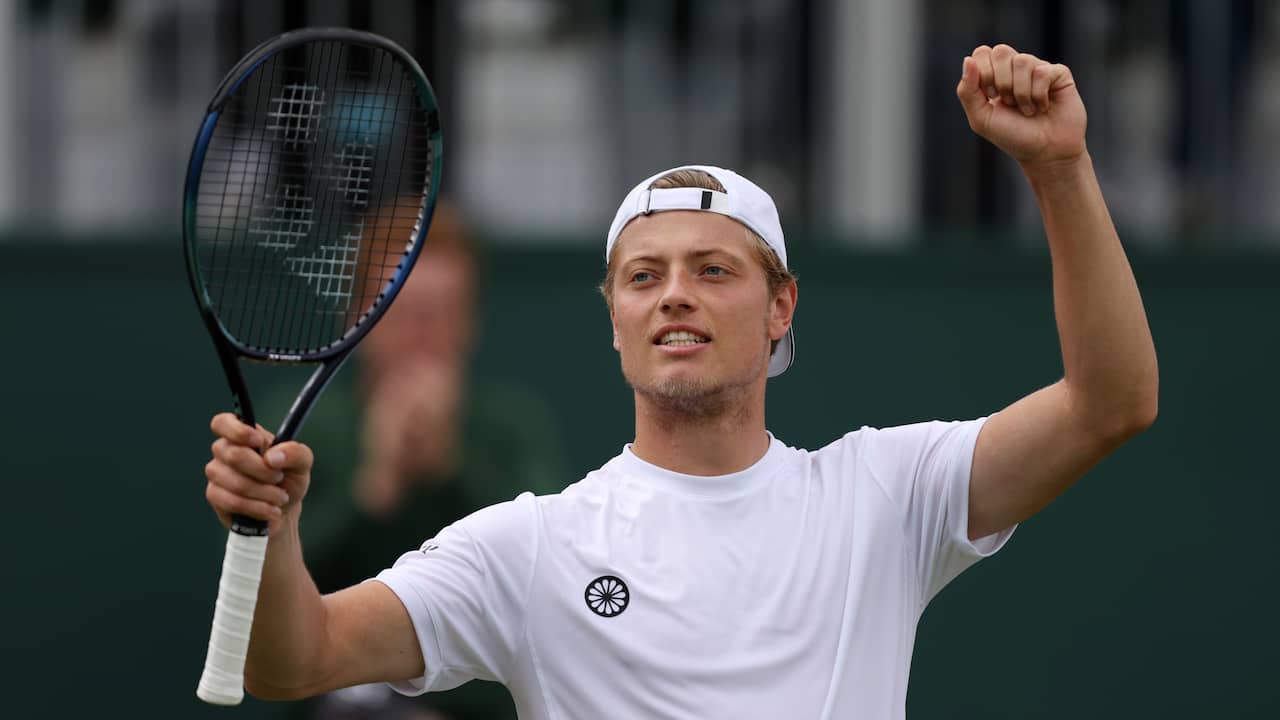 Tim van Rijthoven is rapidly fulfilling the high expectations of his career.
Photo: Getty Images
Van Rijthoven third Dutchman to break through at a late age
It is striking that Van Rijthoven 'only' shows his potential at the age of 25, but it does fit with the current Dutch men's tennis. Botic van de Zandschulp (26) and Tallon groenpoor (25) also struggled to get their professional career off the ground at a younger age and had their breakthrough last year.
"Many players of the moment have only blossomed at a later age. You can see that they only now have the 'click'", underlines 51-year-old Eltingh, who won six Grand Slam titles in doubles and led the world rankings.
"Perhaps it means that tennis players do not get everything at a young age. As an association, we must ensure that youth players get their backpacks filled earlier. Ultimately, it is also a matter of trust and experience. I hope that tennis players aged 24 to 25 years will now also see that it is possible and that they get motivated."
Normally defending champion Djokovic is a size too big for Van Rijthoven on Sunday evening on the center court, but the road to a successful career is paved in a few weeks anyway. The question is where his ceiling is and whether he will soon be able to show it on surfaces other than grass.
"It is a pity that there are no ATP points to be earned at Wimbledon this year, otherwise he could have made a nice step up the ranking. But it is important that he shows himself and has the confidence that he can handle these types of players." We now know how to keep him motivated and how to excite him."
Victories Van Rijthoven at Wimbledon
1st round: Federico Delbonis (7-6 (7), 6-1 and 6-2) 2nd round: Reilly Opelka (6-4, 6-7 (8), 7-6 (7) and 7-6 (4 ) 3rd round: Nikoloz Basilashvili (6-4, 6-3 and 6-4)
---