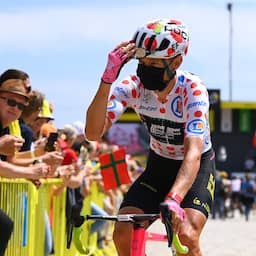 Another 155 km – Cort takes the bulbs to France! It was inevitable, and so it happens. Magnus Cort drives away from the peloton immediately after the start, takes a lead of almost 7 minutes and secures the first of the three mountain points to be earned today. As a result, he now has four, and he can take the jersey to French soil, where the fourth stage will be held on Tuesday.
Another 159 km – Not much else happens in the peloton, where they all seem to like it. The mountain point is about 3 miles up for the taking for Cort.
164 km to go – The difference is 6 minuteswhich means that after 16 kilometers Cort has already grabbed twice as much lead as he managed in the leading group yesterday.
Another 166 km – Something really crazy must happen if Cort has this lead, already 5 minutes and 30 secondswithin the next 10 kilometers.
167 km to go – 4 minutes is the lead already! The first climb will come in 11 kilometers, after which the Dane will probably take it easier.
170 km to go – It seems as if the Danish public is giving Cort wings. Completely on his own, the 29-year-old Dane quickly solos to a lead of 3 minutes†
175 km to go – Cort drives quickly to a lead of 1 minute and 30 seconds and we don't see any movement in the pack yet. Cat in the cup for the Dane for now.
182 km to go – Deja vu! Just like yesterday we see Magnus Cort packing his bags immediately after the starting signal. He wants to take the polka dot jersey with him to France, and all he has to do is be the first to get to the top of the first slope. Will he succeed? For the time being, the Dane is not getting any support, but also no opposition. The Danish public is of course going crazy.
Official Start! Tour boss Christian Prudhomme waves the flag. On y va!
unofficial Start! The peloton, with the men in the jerseys in front, has left for the neutralization. In about 10 minutes cycling violence will break loose in Denmark.
---