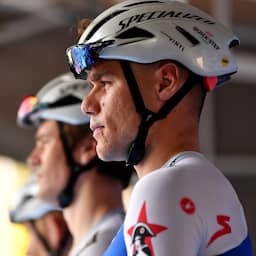 175 km to go – Cort drives quickly to a lead of 1 minute and 30 seconds and we don't see any movement in the pack yet. Cat in the cup for the Dane for now.
182 km to go – Deja vu! Just like yesterday we see Magnus Cort packing his bags immediately after the starting signal. He wants to take the polka dot jersey with him to France, and all he has to do is be the first to get to the top of the first slope. Will he succeed? For the time being, the Dane is not getting any support, but also no opposition. The Danish public is of course going crazy.
Official Start! Tour boss Christian Prudhomme waves the flag. On y va!
unofficial Start! The peloton, with the men in the jerseys in front, has left for the neutralization. In about 10 minutes cycling violence will break loose in Denmark.
---