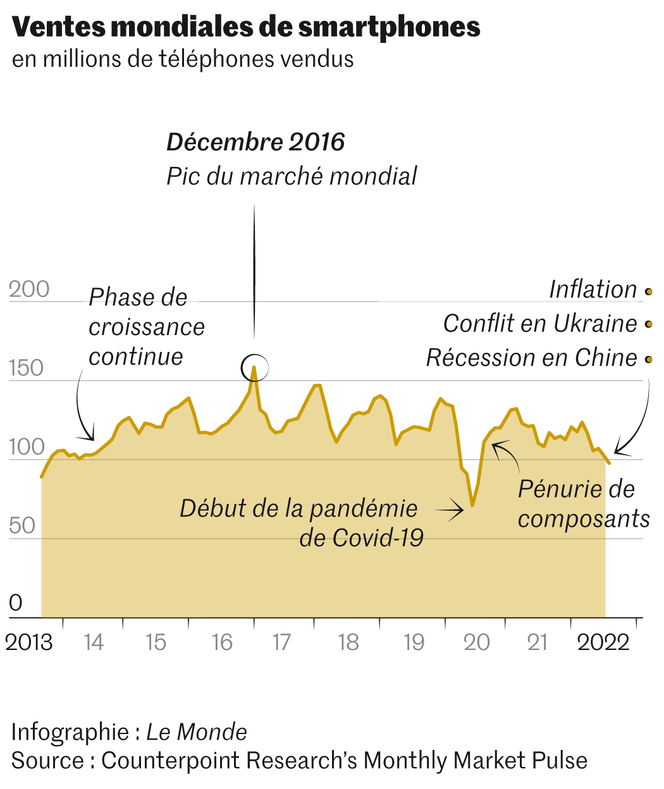 INFOGRAPHIC: THE WORLD
Global smartphone sales continue to decline. In May, they fell by 4% compared to April, and by 10% in one year, according to a study by the firm Counterpoint published Thursday, June 30. They thus fall below the bar of 100 million units sold per month.
A first since 2013, if we exclude 2020, marked by the Covid-19 epidemic and its devastating effects. Shutdown factories and closed stores then explained the drop in sales, which fell to 70 million in June 2020. After a lively, but short-lived, rebound, the market deteriorated again. It has been eleven months since sales failed to reach the levels recorded a year earlier.
Read also: Article reserved for our subscribers The European Union imposes a single charger for smartphones and tablets
The interest of the Counterpoint study lies precisely in that it describes the slow decline of the smartphone market over a decade. In a sector punctuated by product releases from flagship brands (Apple, Samsung, etc.), sales have increased overall, reaching monthly sales of some 160 million units in December 2016. But since then, the market has become mature , continued to decline.
Shortages, inflation, war in Ukraine, Chinese slowdown
The reason: a lack of breakthrough innovations. The long-awaited arrival of 5G – which should allow the latest generations of smartphones to benefit from much higher data rates – has not reversed the trend. Nor has the arrival of foldable phones, which Samsung started popularizing in 2019 but are too expensive to appeal to the masses.
Read also: Article reserved for our subscribers Telecom operators are pushing the sale of smartphones on credit
In its report, Couterpoint estimates that the market should continue to deteriorate. In question, the persistence, even reduced, of the shortage of semiconductors, inflation – which leads consumers to postpone their purchases, in particular in developed countries -, the conflict between Russia and Ukraine – which weighs on sales in Eastern Europe – and, above all, the slowdown in the Chinese market.
In a report published on June 1, the firm IDC estimated that the Middle Kingdom alone was responsible for 80% of the slowdown. "China weighs for a quarter of the world market, and it faces both containment measures, rising unemployment and macroeconomic tensions", underlines Thomas Husson, analyst at Forrester.
Read also: Article reserved for our Telecom subscribers: separated from Huawei, Honor displays its ambitions
---