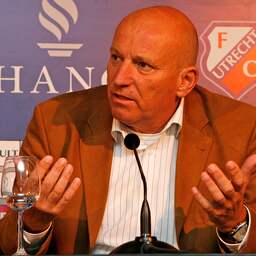 The man accused of rape by former national team coach Vera Pauw is – so he suspects – the 73-year-old former football coach Piet Buter. The former technical director of FC Utrecht admits that he had a brief affair with the fourteen-year-younger football coach in the 1980s, but says that rape was 'absolutely out of the question'. "This is like a bolt from the blue for me and my family," Buter, himself also a former national team coach of the Lionesses, tells this site.
The 59-year-old former international and coach Vera Pauw revealed yesterday that she was allegedly raped at a young age by an official of the KNVB football association. She also accused the KNVB football association that it has acted insufficiently in the past on reports of sexual abuse over the years. The 59-year-old says she has been opposed by the union for years. "It was planned humiliation policy," she says.
The person it concerns turns out to be Piet Buter (73), also former trainer of Emmen and FC Eindhoven and technical director of Telstar until 2019. Confronted with the serious accusations, he reacts audibly upset on the phone. "If I've hurt someone, I'm very sorry. But what I'm hearing now… This just can't be true. That's not how I am. My family knows that, my friends and acquaintances know that. I I'm really stunned."
Sex at home
Buter admits that he and Peacock had an affair. The two met in the summer of 1985 at an annual KNVB tournament in Zeist. They soon like each other and kiss. Peacock falls in love, and Buter, who had been married for eighteen years and father of young children, flirts with her.
"I regret ever starting it," Buter says about it now. "It was not wise and it made my wife sad. After a few weeks, I ended the affair on my own initiative. I chose my family, which I am still very happy with to this day."
'My biggest mistake'
According to Pauw, the rape took place at her home in the Rhijnvis Feithstraat in Utrecht. According to Pauw, there is no question of equal sex. "I thought, what happened here? This wasn't making out. So I said, 'Don't ever do this to me again.' But that did not impress him. That is my biggest mistake, that not all alarm bells went off then," she tells NRC .
The next evening the coach is at her door again. "He said, 'I want to show you that I can do it differently.' And I believed that, in that moment. We ended up back in bed. He rammed it in and was done in under a minute." According to the newspaper, a 'deep shame' means that she will remain silent for decades about what happened to her.
Buter says he can't remember everything because it was such a long time ago. "But one thing I know 100,000 percent for sure: nothing happened without mutual consent," said Buter, adding that old memories "can take on a life of their own."
'Extraordinary to'
In the past 35 years, Buter and Pauw met about ten more times, Buter says. "That was a very cool, distant contact. But during those moments I never once suspected that something serious might have happened. She could always have approached me about this, I'm still open to a good conversation."
Buter sees the report that Pauw has made to the vice squad in Amsterdam 'with confidence', he says. "I am prepared to give my full cooperation to any investigation, including that of the KNVB, but I have not heard anything from them yet."
---