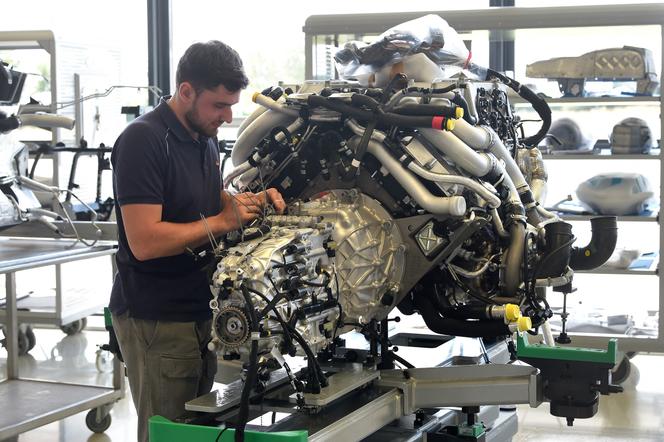 At the Bugatti factory in Molsheim, Bas-Rhin, June 5, 2019. PATRICK HERTZOG / AFP
Europe has scheduled the end of the heat engine by 2035, but some models will have an additional reprieve. On the initiative of the European Parliament, very luxury cars, these "supercars" whose base price exceeds 200,000 euros, will benefit from preferential treatment to pass – a shame! – to all-electric to a senator train.
Called the "Ferrari amendment", the text adopted on June 8 provides that manufacturers whose production is between 1,000 and 10,000 vehicles per year will not have to comply with the intermediate objective of 2030, which plans to reduce CO2 emissions by 55% compared to 1990. These brands will certainly have to comply with the obligation of carbon neutrality, but only from 2036, one year after the deadline set for the rest of the automotive industry.
Read also: Article reserved for our Automobile subscribers: ""The Elon Musk of the Balkans" realizes his dream by buying Bugatti"
Until then, buyers of very luxury cars will be able to continue driving aboard super-powerful coupes powered by mechanics stuffed with hydrocarbons. Firms whose production is below 1,000 units per year such as Bugatti (Volkswagen group), Morgan or the Swedish Koenigsegg will escape, for their part, the programmed restrictions.
Strong presence of Italian MPs
During this time, the vulgum will have to convert to hybrid or electric and pay a significant additional cost, in order to contribute to the achievement of the collective objectives of reducing CO2 emissions. Even if "supercars" represent only 0.2% of the market, such a message seems difficult to reconcile with the building of a consensus around the ecological transition. Especially when, at the same time, Europe insists on the need to democratize the transition towards more environmentally friendly mobility.
This preferential regime could benefit Lamborghini (8,500 vehicles per year), McLaren (4,000 cars in good years) and, theoretically, Rolls-Royce (5,500 sales in 2021). Despite its title, the amendment adopted by the European Parliament should not, as it stands, concern Ferrari, unless there is a strategic reversal. The prancing horse brand has embarked on a steady increase in production, which represented 11,153 units in 2021, and is due to reach the 15,000 mark in 2025, as part of a plan to increase to nearly 40 % its margin rate.
Read also Article reserved for our subscribers "I have never seen such a level of activity": the good fortune of luxury cars
The vigorous plea in favor of an exceptional regime pronounced by Roberto Cingolani, Italian Minister for Ecological Transition (and former member of the board of directors of Ferrari), undoubtedly contributed to associating this amendment with the Maranello firm. As well as the strong presence of Italian deputies among the signatories of this proposal adopted by a conjunction of elected representatives from the far right, right, center and left.
You have 33.99% of this article left to read. The following is for subscribers only.
---