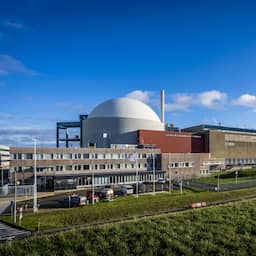 Do we need nuclear energy to achieve the climate goals? Proponents say yes. Opponents say it can also be done without. On Friday, Minister Rob Jetten will announce more about how the cabinet sees the future of nuclear energy.
This article is from Trouw. Every day a selection of the best articles from newspapers and magazines appears on NU.nl. You can read more about that here.
In short, there are four reasons why politicians should immediately dismiss the possibility of nuclear energy, says Gerard Brinkman. Nuclear energy is potentially dangerous, polluting, too expensive and available too late to combat climate change, says Brinkman, spokesperson for environmental organization Wise.
Olguita Oudendijk thinks about this radically differently. According to the director of the climate movement RePlanet, nuclear energy is the safest choice, clean and affordable because of the relatively long lifespan of nuclear power plants.
Option in the energy mix
The contradictions are great, but the proponents and opponents of nuclear energy do agree on one thing: nuclear energy in itself is a climate-friendly energy source. In terms of CO2 emissions, approximately equal to wind and solar energy. And that is why, according to climate and energy minister Rob Jetten (D66), it may be an option in the mix of new sustainable energy sources. On Friday, the minister will announce more about how the cabinet sees the future of nuclear energy.
"Every day that the construction of nuclear power stations is postponed is a step back in time," says Oudendijk. She is clear about the risk of a nuclear disaster, albeit very low. "Well, there are more risks in life. Nuclear energy causes the least number of fatalities per unit of electricity produced. There is an even greater chance that someone will fall from the roof when installing solar panels."
stable factor
According to Oudendijk, nuclear energy could act as a stable factor between wind, sun and possibly hydrogen. Nuclear energy is always available, while the sun does not shine every day. "People often think of a new type of energy system when they hear the word nuclear energy, but that is not the case. By increasing the share in the energy supply to, for example, a quarter, we create more distribution and therefore certainty with nuclear energy."
That certainty of sufficient energy supply is also there if we use energy more efficiently in the first place, says opponent Brinkman. The fact that the KabiNet reserves EUR 5 billion for nuclear energy and EUR 4 billion for insulating homes means that the priorities are not in order, he believes. "In addition, there are opportunities to think across regions. With neighboring countries, we can develop an infrastructure to jointly provide more than enough energy, based on wind, solar and hydrogen."
Nuclear energy does not fit within such a sustainable energy chain, says Brinkman. Because of the risk, albeit very low, of a fatal nuclear disaster. But also because a reduction of CO2 emissions is something else than sustainable. "For nuclear energy, we first need uranium, while we have to get rid of raw materials. No solution has yet been found for nuclear waste. We still don't know enough about the harmful effects."
Is sun and wind so clean?
The pro-nuclear movement RePlanet, on the other hand, believes that wind turbines and solar cells can also be criticized. Rare earth metals are important for its development. The production of rare earth metals is harmful to the environment and largely takes place in China. And how sustainable is it if we also import batteries and solar cells from China, all the way from the other side of the world, RePlanet wonders rhetorically.
But a disadvantage of nuclear energy is that the construction of plants takes years and we do not have that time, opponents say. Climate change continues and it is not until the mid-thirties that any new nuclear power plants can go into operation. Nevertheless, we can also achieve the Cabinet's goal of having a climate-neutral energy system by 2050 with nuclear energy, according to recent research by research agency TNO. But we can also achieve that target without nuclear energy.
What is the difference then? The amount of energy we need. If we focus on energy savings, new nuclear power stations will not be necessary to achieve the climate targets. But if the energy demand is 'high', it is financially more advantageous to also open nuclear power stations, sees TNO. "That's where you get to the crux of the discussion," says Brinkman. "Are we going to change our lifestyle and save energy, or not?"
---