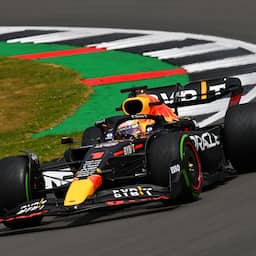 Due to the rain, the Formula 1 drivers were unable to show much on Friday during the first free practice for the Grand Prix of Great Britain. Several drivers only made it to one lap at Silverstone.
Due to the rain, Max Verstappen spent most of the training in the pit box. The Dutchman drove three laps and did not set a time. Also, among others, teammate Sergio Pérez and Mercedes driver George Russell did not come to a time.
The first free practice session came to an end just under a minute before the end due to a red flag caused by a crash by Lance Stroll. Aston Martin's Canadian spun into the Copse corner and landed in the gravel.
Valtteri Bottas and Lewis Hamilton have benefited most from the first free practice. Bottas completed nine laps and clocked 1.42.249, leading the times list. Mercedes driver Hamilton also managed to dive under the minute and 43 seconds (1.42.781) and was the most productive with ten laps.
Charles Leclerc finished fourth behind teammate Carlos Sainz (1.42.967) with a time of 1.43.801. The Ferrari driver can afford few mistakes anymore to keep the battle for the world title with Max Verstappen exciting.
There is a good chance that the drivers will be able to do more laps later on Friday in the second free practice (5 p.m.) at Silverstone, where it had stopped raining at the end of the first practice. It looks like it will stay dry.
---