During an interview, Christian Bale confesses that he Thor: Love and Thunder (2022) worked with Peter Dinklage and Jeff Goldblum, but the scenes were cut from the theatrical release. In Avengers: Infinity War (2018) played Dinklage Eitri and Goldblum played The Grandmaster in Thor: Ragnarok (2017).
I got to work with Peter Dinklage, that's not in the final film, but he's fantastic. I got to work with Jeff Goldblum, he's not in the final film either. As you can see, a lot of things end up on the cutting shop floor, even though it's beautifully brilliant stuff.

Christian Bale
Bale plays Gorr the God Butcher. It seems there were even more terrifying bits that weren't suitable for a younger audience. Many people have compared Bale's performance to his friend Heath Ledger's turn as The Joker in The Dark Knight. While he wouldn't list him as a complete source of inspiration, he's flattered by the comparison.
The film finds Thor on a journey like never before – a quest for inner peace. But his retirement is interrupted by a galactic assassin known as Gorr the God Butcher, who is pursuing the extermination of the gods. To face the threat, Thor enlists the help of King Valkyrie, Korg and ex-girlfriend Jane Foster, who – to Thor's surprise – uses his magic hammer, Mjolnir, as the Mighty Thor. Together, they embark on a harrowing cosmic adventure to unravel the mystery of the God Butcher's vengeance and stop him before it's too late.
Thor: Love and Thunder runs from 6th of July in the cinema. For a complete overview of all new films that will be released in cinemas, please visit our Coming Soon page.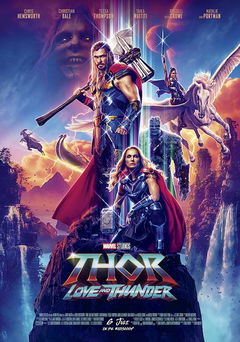 7.8
Thor: Love and Thunder (2022)
In 'Thor: Love and Thunder', Thor (Chris Hemsworth) embarks on a journey unlike any he has ever done before: a journey to inner peace.
Image: Still 'Thor: Love and Thunder' via TMDb
---