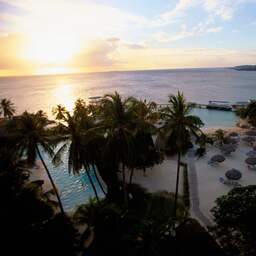 Tropical storm Bonnie, which was to pass over Curaçao, Aruba and Bonaire on Wednesday, did not have any major consequences. The islands have responded with relief. Curaçao is a blessed country, said Prime Minister Gilmar 'Pik' Pisas, who thanked God for the lack of major damage.
A curfew was imposed on Curaçao in all haste from 11 a.m. on Wednesday. Pisas explained Wednesday evening that due to the threat of the tropical storm, his government had no other choice.
In the end it remained on Wednesday with slightly more rain than usual. Pisas warned that there could still be a lot of rain and thunderstorms. However, the curfew will be lifted at 4 a.m. on Thursday. The code red has been changed to code orange.
According to the government, "a considerable amount of water fell" on Bonaire on Wednesday. They have also been warned that there could be more flooding in the coming days. But according to the government, schools can open again on Thursday.
It also remained relatively quiet on Aruba. However, the government has stuck to the advice to stay at home until at least 6 a.m. on Thursday. After that, all measures have been withdrawn and Aruba can run normally again, according to Prime Minister Evelyn Wever-Croes.
---