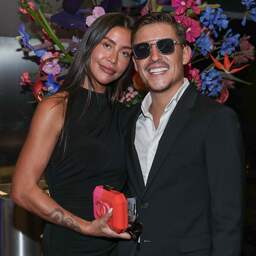 It is still hard for Jaimie Vaes how her ex Lil Kleine deals with her. The 32-year-old Vaes tells this in the second episode of her reality series Jaimie: In the Vaes Lane, which appears on discovery + on Friday.
"It is bullying. I am the mother of his child. Despite the fact that you are separated, you hope that you will get a little respect and that is not coming," says Vaes.
A fragment of the broadcast shows, among other things, that the artist has taken valuable items from Vaes. She says the behavior of Lil Kleine, whose real name is Jorik Scholten, is "getting worse". "But I won't be hurt or treated like that anymore."
The reality star is curious how Scholten's behavior will eventually develop. "Hopefully Lío and I will then be a few steps further. If Mr Scholten then wants a father role, he will hopefully have grown a bit in his psyche. Because at the moment I think his focus is not there yet. I don't know where, but at least not for improvement."
Although Vaes and Scholten have been separated for several months, she still has certain expectations of her ex. "But nothing has changed since he came back from Thailand. Especially towards Lío, his attitude has not changed."
"He would go there for himself and for his son. But he will come back with a new relationship and that is great fun. He has to enjoy himself and continue where he can, but then have a little respect."
Investigation into the rapper is still ongoing
The Public Prosecution Service (OM) announced at the end of June that the investigation into Lil Kleine is still ongoing. That investigation was launched in mid-February. The Public Prosecution Service then announced that it suspected the rapper of attempting aggravated assault on his fiancée.
Lil Kleine was then arrested after images emerged showing his fiancée Vaes clamping her head between a car door. Shortly afterwards, Vaes broke up with the artist.
Just before the incident, Lil Kleine was sentenced to 120 hours of community service for assaulting a man in a nightclub in Amsterdam. Vaes announced in an interview on television at the beginning of April that she had filed a complaint against her ex.
---