Jun 30, 2022 at 10:11 PM
Holidays and good food go hand in hand, but camping cooking can be a challenge. With these cooking tips it will be a piece of cake.
By: Mirjam Bedaf
Pancakes, pasta and a hamburger bun are pretty much the standard camping dishes. But especially on vacation you can probably take the time to put something delicious on the table.
"What you take with you to cook on, of course, depends on the way you camp," says Tjerk Romkema, also known as the Camping Meneer. "I am not a basic camper, but I prefer to sleep under tent cloth. So either in a tent or in a folding trailer. The folding trailer already has a kitchen. When I camp with the tent, everything has to fit in the car. I'm more picky about what I take with me, but if I can, I make sure I can cook on two gas burners."
Judith Miedema of Caravanity, a website for people who want to pimp their camper or caravan, sees many campers who cook outside. "Especially with retro caravans, people often don't like the idea of ​​cooking inside on an old gas burner. And cooking outside is of course much more fun. The real camping cook has a real outdoor kitchen. If you're a bit handy, you can already make one of three shelves."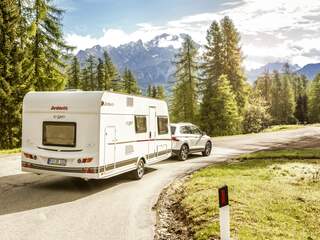 See alsoHow sustainable is your motorhome or caravan?
Options for your barbecue
Both Romkema and Miedema swear by a compact gas barbecue. "These are relatively small, you can not only barbecue on them, but also use them as a large pit – handy for stir-frying or baking potatoes," says Miedema. "You used to have the skottelbraai, now you see that people more often go for something more compact."
There are grills and pizza stones on the market that you can place on top of the barbecue, on which you can bake your own pizza. An entire chapter in the Caravanity cookbook is devoted to this. "Also useful for warming naan bread or making naan pizza."
The smell of basil seems to keep insects away. Anyway, it does look nice on the table.
Tjerk Romkema, also known as the Camping Meneer
Two more handy gadgets for the barbecue: the popcorn pan. "You can easily make something similar yourself from a broomstick and two iron sieves," says Romkema. Miedema pops her corn on the barbecue in a self-folded bowl of aluminum foil. The second is the campfire pot, known as the 'dutch oven'. It is a pan that you can put on the coals, or hang on a tripod over a campfire. You can make soup or stew in it, and you can even bake banana bread or apple pie in it.
At the campsite with small children
Another old-fashioned tool that has now found its way to the campsite is the wonder pan. "It's an oven for the gas burner. My grandmother used to have one in which she used to make bundt cakes. Ideal for camping," says Romkema. "We bake bread rolls and croissants in it, but also savory pies and pizza."
Handiest and tastiest coffee: with a filter
Making coffee is also always a thing at the campsite. Romkema has tested a lot, but thinks the old-fashioned filter coffee with boiling water is the most convenient and the tastiest. "I have a foldable stainless steel coffee filter. It can even be used without a coffee filter bag. Foldable is always handy when camping, except for pans. I'm not a fan of those myself. I think they give your food a taste."
And finally, a tip for cooking itself. "You can buy a herb shaker with six or nine different herbs. The disadvantage is that the herbs that are used the most are used up at some point. There are also herb shakers that you can fill yourself with your favorite herbs and spices," says Romkema. Miedema is spotting a striking number of basil plants at campers this season. "To make your dish tasty, but the smell also seems to keep insects away. I don't know if that is the case, it certainly looks cozy on the table."
Image: Getty Images
---