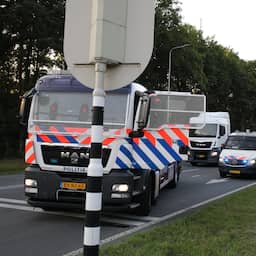 The police closed the access to Apeldoorn from the A1 highway on Wednesday evening to stop demonstrating farmers. The mayor of Apeldoorn has issued an emergency ordinance because farmers are on their way to the police station in that city. There they want to free farmers who are trapped.
The closure is located where the provincial road N304 from Apeldoorn to Ede changes into the Europaweg. The main office of the North and East Gelderland police region is located on that road. The ANWB says it does not see any tractors or other traffic congestion in and around Apeldoorn.
The A1 highway can no longer be reached from Apeldoorn and Hoenderloo due to the deposition of the police. A lot of police are driving around in Apeldoorn, including with buses from the Mobile Unit (ME) and on motorcycles, according to images on social media.
The riot police is standing by at the police station with at least ten vans. There is also an arrest team with three police vans. Furthermore, the cars of the dog handlers are ready and the police have a shovel with a trailer ready for possible disturbing tractors. Two police helicopters also fly over Apeldoorn.
Hundreds of farmers would drive from Stroe to Apeldoorn
According to The Stentor several farmers with tractors have gathered near Stroe. From there they drove towards Apeldoorn around 7.30 pm, the newspaper reports. According to unconfirmed reports, hundreds of farmers are involved. The arrested farmers are in a cell at the cell complex in Apeldoorn.
Social media called for "as many farmers as possible to come to the police station in Apeldoorn with the aim of liberating the farmers who are stuck at the station".
The emergency ordinance will apply to a large part of the municipality of Apeldoorn from Wednesday 7.30 pm. With the emergency ordinance, the police can take action against rioters, close roads, evacuate places and ban gatherings, the municipality said.
Harderwijk also issued an emergency regulation
People who do not leave after a request can be arrested by the police, says Mayor Ton Heerts.
"The municipality sees demonstrating as a fundamental right," says Heerts. "As long as it remains within the limits of the law, a lot is possible within Apeldoorn. Blocking roads and (threats) of disruption of public order and safety are not allowed."
Harderwijk also issued an emergency ordinance on Wednesday for the area around the home of Minister Christianne van der Wal (Nature and Nitrogen). The reason for this was the farmers who broke through a police barrier at her house on Tuesday evening.
---