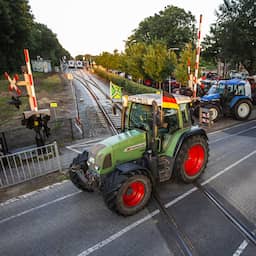 The mayor of Apeldoorn has issued an emergency ordinance for Wednesday evening after consultation with the police and the Public Prosecution Service. This was prompted by calls on social media to bring as many farmers as possible to the Apeldoorn police station with the aim of liberating the farmers who are trapped at the station.
The emergency ordinance will apply to a large part of the municipality of Apeldoorn from Wednesday 7.30 pm. With the emergency ordinance, the police can take action against rioters, close roads, evacuate places and ban gatherings, the municipality said.
People who do not leave after a request can be arrested by the police, says Mayor Ton Heerts.
"The municipality sees demonstrating as a fundamental right," says Heerts. "As long as it remains within the limits of the law, a lot is possible within Apeldoorn. Blocking roads and (threats) of disruption of public order and safety are not allowed."
The Mobile Unit is ready with at least 10 vans, writes The Stentor† There is also an arrest team with three police vans at the police station. Furthermore, according to the newspaper, the dog handlers' cars are ready and the police have a shovel with a trailer ready for potentially unpleasantly placed tractors.
According to De Stentor, the farmers marched with tractors to the police station. They would have gathered near Stroe. From there they drove towards the Europaweg around 7.30 pm, the newspaper reports.
This message is being completed.
---