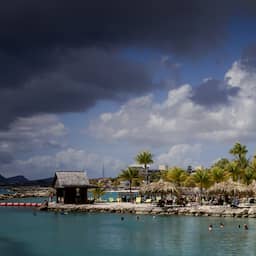 Aruba, Bonaire and Curaçao may be hit by a tropical storm on Wednesday evening. Curaçao Prime Minister Gilmar 'Pik' Pisas called on the population on Tuesday to bring enough water and food into their homes.
He also urged retailers not to abuse the storm warning (code red) issued earlier in the day.
Curaçao, like Aruba and Bonaire, is preparing for the arrival of a tropical storm that can hit the islands in the night from Wednesday to Thursday.
The storm is currently over the Atlantic Ocean. Once the strength continues to increase and the storm turns into a tropical storm, it will be renamed Bonnie.
Pisas to shopkeepers: 'Don't raise prices'
The population of the ABC islands has been urged to get enough water and non-perishable food into their homes. People also need to get their homes and gardens in order to be prepared for heavy rainfall and strong gusts of wind.
Pisas asked the shopkeepers not to suddenly increase prices and thus take advantage of the situation. He also advises people to do their shopping in their own neighborhood, so that everyone can do their shopping.
The Prime Minister said on Tuesday afternoon that Curaçao is still dealing with the consequences of the corona pandemic and the war in Ukraine. "Many people have financial problems and it is difficult for them to buy extra food and drink."
He stressed that there is still a chance the storm will deflect and not hit the islands. Pisas: "Let's hope so."
---