Swimming schools are concerned about children's swimming skills. Although the industry is working hard to get rid of the waiting lists that have become even longer due to the corona measures, this is not always possible. As a result, children sometimes learn to swim later than they should.
According to the diploma provider National Swimming Safety Council (NRZ), the waiting times to start swimming lessons are "firm". "If you register a child now, it will take months to six months before it's your turn," says director Titus Visser.
Before the corona crisis, children also had to wait a while, but according to Visser, the corona measures have "greatly strengthened" the waiting lists. The NRZ does not have precise figures.
Visser does, however, find the signals he receives worrying, because children only learn to swim properly later. "The category of children you expect to be able to swim is not always possible yet. With the summer season just around the corner, you have to pay extra attention to that."
'Up to three years needed to restore waiting lists'
Shiva de Winter of the Dutch Water & Swimming Safety Foundation (NSWZ) is also concerned about this. "This is mainly due to the increasing average age at which a child has a diploma." According to De Winter, the waiting lists for the corona crisis were already an average of one year, and they have now risen to 1 to 2.5 years. Because of those waiting lists, children start swimming later. They usually do that between the ages of seven and nine, he explains.
Diploma provider Royal Dutch Swimming Association (KNZB) also sees that the waiting lists are not yet back to the level before the corona crisis. "An estimate of the industry is that it will take up to three years before the waiting lists are reduced and the quality of the swimming technique is back to the old level," says a spokesperson.
During the lockdowns, the swimming pools had to (partially) close.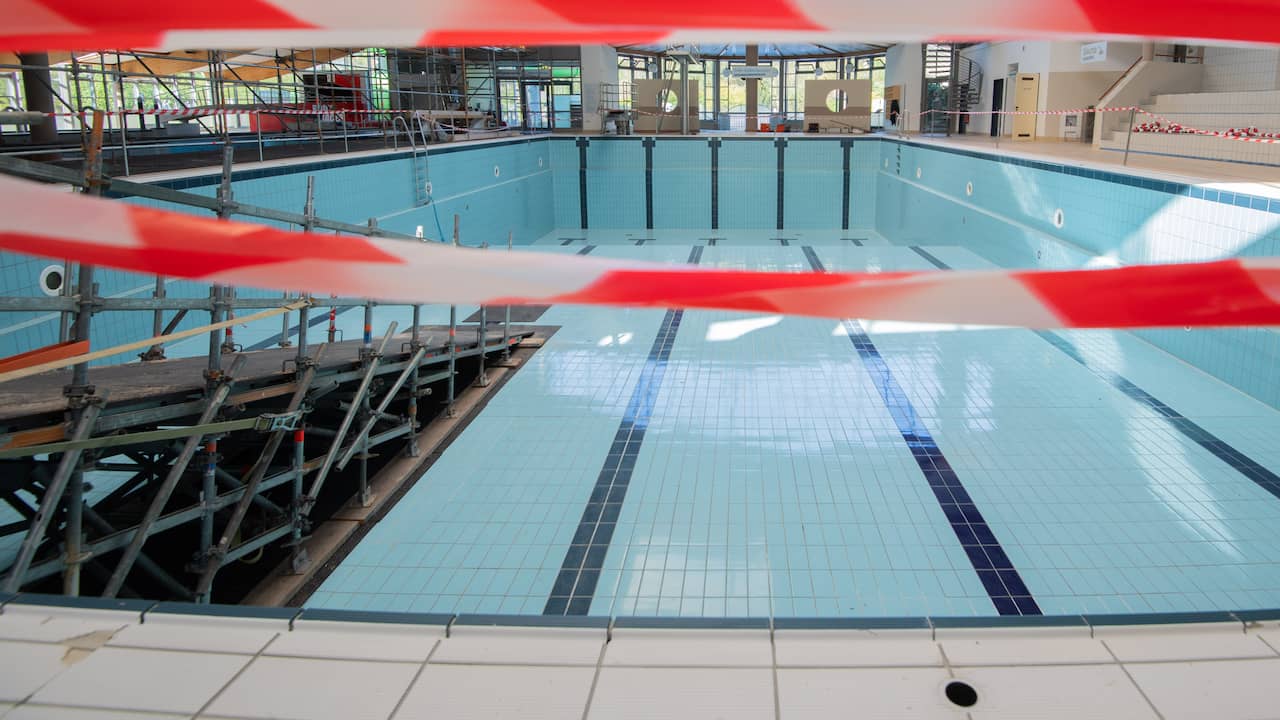 During the lockdowns, the swimming pools had to (partially) close.
Photo: Pro Shots
Situation is different for every pool
Some swimming pools have already succeeded in eliminating the waiting lists by offering extra lessons, for example. For example, diploma provider Laco sees that their waiting lists have not increased very much.
Herman Rijsdijk, swimming pool adviser at the Sports and Municipalities Association, recognizes the signs of long waiting lists, but he also says that many swimming pools are getting rid of them.
According to him, you have to pay attention, because many children with a diploma have not been swimming for a while due to the corona crisis. "It may be a little more because you did not give swimming lessons during the corona period. But five years ago there were also children who could not swim. It is suggestive to think that it is because of the corona measures."
'If the bugger bathes more people'
All associations that NU.nl spoke to point to the lack of personnel as one of the reasons why the waiting lists have not yet been eliminated. Like many other sectors, the swimming pool industry is also struggling with a tight labor market.
NRZ director Visser says that it is "struggle to get the schedule done". "We need to get more people to bathe like the scumbag", he thinks. The director sees that swimming pools sometimes deal with their shortages in a creative way, for example by speeding up the training of lifeguards in collaboration with schools.
Diploma provider Sport Funds says it is "fully committed" to recruiting new staff and training existing staff to meet the demand for swimming lessons. The waiting lists at Sports Funds are eliminated by, among other things, offering swimming lessons on weekends and holidays, or by sending parents to other accommodations.
How this article came about
NU.nl spoke with various organizations involved in swimming lessons. These are the major diploma providers NRZ, KNZB, Sport Funds and Laco. In addition, NU.nl spoke with other parties involved in swimming lessons, the Sports and Municipalities Association, which advises municipalities on swimming pools, and the NSWZ, the interest group of dozens of swimming schools.
---