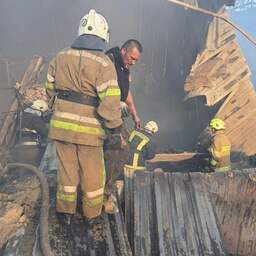 Once a day, NU.nl gives you an overview of the situation in Ukraine. On Monday, civilians were killed in several Ukrainian towns by Russian rocket attacks. Fire broke out in a shopping center in Kremenchuk, which is centrally located. Rescuers are still looking for survivors under the rubble.
Ukrainian President Volodymyr Zelensky reported about the rocket attack in the city of Kremenchuk that more than 1,000 civilians were in the complex when the rocket hit. Ukrainian officials confirm that at least 11 people have been killed and 40 injured.
Rescuers continue to search for survivors. "We do not know how many people are still under the rubble," the chief of the regional rescue service said on television. According to the mayor of Kremenchuk, it is a "very busy" shopping center.
Lysychansk under fire after Severodonetsk . fall
At least 8 people were killed and 21 injured in a rocket attack in Lysychansk just days after neighboring Severodonetsk fell to pro-Russian separatists. The city has been "catastrophically" damaged by shelling, Luhansk regional governor Serhiy Gaidai said.
The Russians allegedly attacked civilians who flocked to a water tank to collect water, the governor said.
Kharkiv, which is located in the northeast, also suffered several victims on Monday after Russian attacks. At least five people died and 19 were injured, the regional governor said.
European Union sends nuclear protective equipment
The European Union is sending 300,000 protective suits and 5,600 liters of disinfectant to Ukraine, among other things. The equipment is intended to treat patients in the event of a chemical, biological or radiological attack or nuclear disaster.
Ukraine will also receive equipment for decontamination operations, ventilators, infusion pumps, hospital surveillance monitors and protective clothing for healthcare workers. The items have a value of 11.3 million euros.
In April, three million potassium iodide pills were sent to Ukraine. The government in Kyiv itself had asked for the items.
G7 comes with new sanctions
Economically, the G7 is trying to cut off Russia further. The world's major industrialized countries, including the United States, Germany and Japan, will introduce a new sanction package on Tuesday. They want to put further pressure on Moscow to end the war in Ukraine. There are also plans for a price cap for Russian oil, said a senior US government official.
With the new sanctions, the country bloc, which also includes Canada, the United Kingdom, France and Italy, wants to significantly reduce Russia's income. That country still earns a lot of money from the sale of oil and gas, among other things, but the measures must limit that. The sanctions are also aimed at minimizing the damage to other countries.
---