Sustainability is arguably the most important agenda item for the automotive industry right now. Several brands are working hard to achieve legally imposed green requirements. New models that are CO2 neutral over their entire life cycle are the ultimate goal for the entire sector. The camping industry in this area is just at the very beginning.
Car brands are committed to sustainability in all kinds of ways. One has vegan leather, the other seat covers from discarded fishing nets. Carpet made from recycled PET bottles or dashboard trim and seat belts from old jeans is also not uncommon.
The large motorhome and caravan brands have something else on their minds, says Jos Mark of the website Campingtrend.nl. "Due to the shortages of parts and raw materials, manufacturers are currently facing very different challenges. Many suppliers are experiencing major delays in production. As a result, the delivery time of new motorhomes and caravans is becoming longer and consumers will be confronted with increasingly higher prices. .Definitely a headache for the sector."
Manufacturers also act on market demand or lack thereof. "There is very little demand for motorhomes with hybrid technology or electric drive," says Mark. "Most buyers mainly see limitations, such as the extra weight or the small range that the technology entails. At the moment, the infrastructure for electric vehicles abroad sometimes leaves a lot to be desired."
With a large alcove, semi-integrated or integral motorhome, you can quickly reach a weight of 3,500 kilos, for which you can still use a B driving license for a passenger car. If you exceed that weight, the camper may only be driven if you have a truck driver's license.
Electric motorhomes from the Netherlands
When the car brands come up with electric commercial vehicles that remove the biggest objections in terms of weight and range, it will automatically become attractive for the motorhome brands to offer a partially or fully electrified alternative in addition to the usual models with diesel engines.
If you already want to go on an electric camping holiday, you can contact Tonke. This company converts the Mercedes EQV into a camper van. The Dutch Camperfixx is doing the same with the Peugeot e-Partner, Opel Vivaro-e and Toyota Proace Electric vans. The e-Fixxter is available in two length versions and has a fully electric range of about 250 kilometers.
Volkswagen campervan enthusiasts can look forward to a full electrically powered motorhome based on the retro ID. buzz, writes the editors of AutoWeek. This version was announced during the unveiling of the new electric retro van at the beginning of March this year. Cheap will be the ID. Buzz with camping equipment do not become: Volkswagen currently offers the passenger variant of the ID. Buzz on for a base price of 69,990 euros.
Durable with double meaning
With caravans, the term 'sustainability' takes on more of a double meaning. "Generally speaking, a caravan lasts a very long time," says Peter Hagenus of Kip Caravans. "There are still a lot of Kip caravans in use that are 25 years or older. That alone makes our caravans sustainable. But nowadays we also look at the materials that we use in our products, such as the filling of the cushions or the cladding of the walls. For this we use recycled materials and natural wool."
Kip Caravans has also 'greened' the production process. "Kip Caravans saves about 310 tons of CO2 on an annual basis through sustainable waste management alone", Hagenus shows on the basis of a certificate issued by SITA Netherlands. "In addition, we work as much as possible with Dutch suppliers, such as De Waard for the tent canvas and Victron Energy for all energy systems. This keeps logistics lines short and CO2 emissions limited."
Second life for the caravan
Camperfixx and Kip Caravans are ahead of the pack in the field of sustainability in the motorhome and caravan world, but now major brands are also increasingly showing their 'green' side. For example, from the new model year, the C'Joy caravan of the Dethleffs brand will be fitted with upholstery made from recycled PET bottles. Dometic Outdoor uses the same material in the new inflatable Redu eco tents.
Still, there will come a time to say goodbye to the old-timer caravan. But that does not mean that the mobile holiday home has to be discarded. At Glaravans in Hengelo, old worn out caravans are given a second life.
Equipped with new technology, Glaravans caravans are furnished entirely to the wishes of the new user with sustainable and circular materials. After renovation, in which up to 60 percent of all old parts in the caravan are reused, the old caravan can last another thirty to forty years.
Glaravans gives old caravans a second life.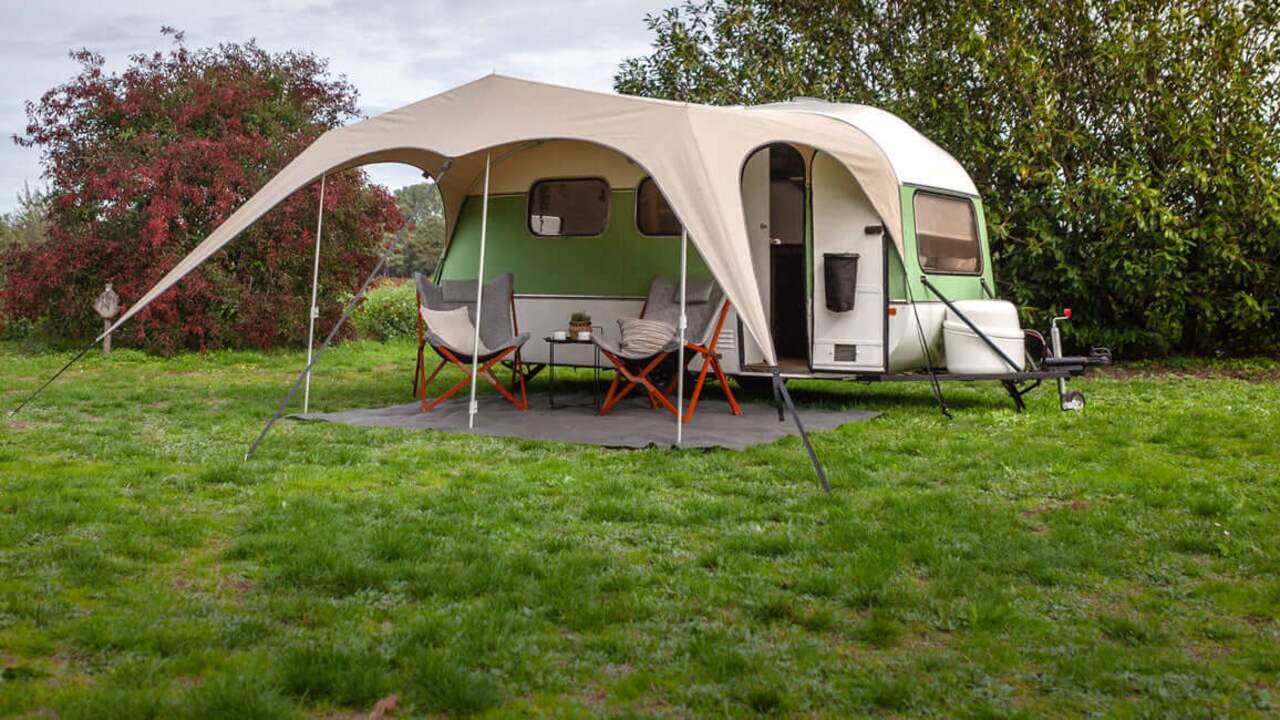 Glaravans gives old caravans a second life.
Photo: Glaravans
We do not have permission for the necessary cookies. Please accept the cookies to view this content.
---