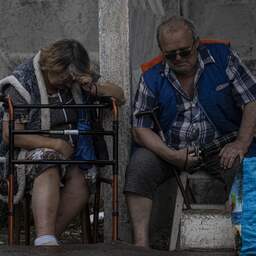 Russian troops on Saturday halted the evacuation of civilians hiding at a chemical plant in the Ukrainian city of Severodonetsk. According to the Russian news agency TASS, Ukrainian artillery shelling prevented the safe retreat of the civilians.
Both Russia and Ukraine reported on Saturday that the strategically located city in the Luhansk region is completely in the hands of the Russian military and pro-Russian separatists. Yet there is still fighting.
An adviser to Ukrainian President Volodymyr Zelensky admitted on Saturday evening that Ukrainian artillery shelled the city. According to the adviser, there are also Ukrainian commandos in Severodonetsk that pass on targets.
Severodonetsk has been fiercely fought over for weeks. The capture of the city was an important goal of Russia, which controls almost the entire Luhansk region. The city has been almost completely destroyed by the fighting, but according to Russian sources, several hundred civilians are still hiding on the site of the chemical plant Azot.
---