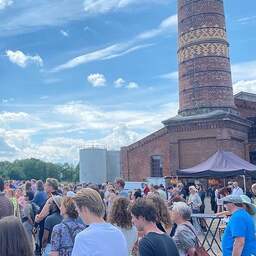 Radiant sun, pizzas, exuberant students and nearly two thousand visitors were part of the opening of FUTURE, the graduation exhibition of Academy Minerva (Hanze University Groningen) on Saturday. Commissioner of the King René Paas and Dean Dorothea van der Meulen jointly opened the extensive exhibition on the site of the De Toekomst factory in Scheemda.
In the exhibition, 160 bachelor's students from the Autonomous Visual Arts, Design and Visual Arts and Design Teachers degree programs show their graduation work. The work of master's students from the Frank Mohr Institute can also be seen in the factory. The exhibition can be visited until 30 June. Every day there is an extensive side program with music, performances, films and lectures. More information can be found at www.academieminerva.nl.
Traditionally, the Minerva Academy prizes were awarded during the opening. Graduates of the three bachelor's programs were eligible for the Minerva Award for Fine Art, Minerva Award for Design and the Minerva Art Education Prize, all 1,500 euros. Later this week, the Minerva Award for Research in Art/Design will be presented, worth 500 euros. The three prizes were won by Maarten Krukkert and Ali Salami (Minerva Art Education Prize), Ieva Grabauskaitė (Minerva Award for Design) and Lorenzo Modestini (Minerva Award for Fine Art).
---