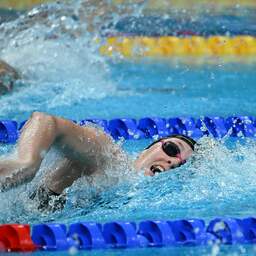 The Dutch women failed to take a medal in the 4×100 meter medley on Saturday on the final day of the World Cup in Budapest, despite a national record. The Netherlands therefore ends the tournament with two slices.
Marrit Steenbergen, Maaike de Waard, Tes Schouten and Kira Toussaint clocked the fifth time in the final in the Duna Arena (3.57.24). The foursome was therefore slightly faster than the previous Dutch record 3.53.28, which was swum in 2012. .
The gold went to the American women in 3.53.78 and Australia (3.54.25) and Canada (3.55.01) also took the podium. The Netherlands was second in the final battle, only the Australian swimmers were faster in the series.
The two medals of the Netherlands this World Cup were won by Arno Kamminga and the mixed relay team in the 4×100 meter medley. Kamminga took silver in the 100-meter breaststroke and then also belonged to the relay team, which also consisted of Toussaint, Nyls Korstanje and Steenbergen.
---