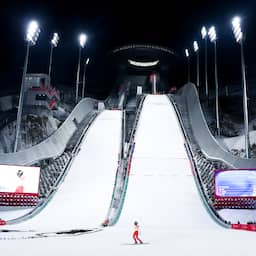 At the 2026 Winter Olympics in Italy, a competition for ski jumpers on the big jump is also on the program for the first time. The International Olympic Committee (IOC) has added the component.
At the beginning of this year's Games in Beijing, the IOC was criticized because women, unlike the men, did not compete on the large ramp.
The committee strives for equality between men and women, although in four years' time in Milan and Cortina d'Ampezzo more men than women will still participate in the Games. The IOC has set the maximum number of participants for the next Winter Games at 2900, eight more than at the last Games.
The number of women increases slightly compared to Beijing (from 1314 to 1362) and the number of men decreases slightly (from 1578 to 1538), bringing the ratio to 47 to 53 percent. The IOC strives for an equal distribution. At last year's Summer Games in Tokyo, 48 percent of the participants were women.
More new parts in 2026
The program for the 2026 Games will also be completed with a mixed nations race in skeleton, a women's doubles in luge, additional events for both men and women in the moguls and even a whole new discipline: mountaineering, mountaineering on skis.
In alpine skiing, the parallel slalom for mixed teams and possibly also the combination is disappearing. There may be a mixed country competition on the combination (descent and slalom) instead.
The international ski federation FIS had proposed to include the Nordic combination for women in the Olympic program, but the IOC rejected it. The committee is even considering scrapping this part after 2026, because the medals at the last three Games were distributed among only four countries. The Nordic combination consists of ski jumping and cross-country skiing.
---