Synchronized swimmer Anita Alvarez is feeling well after she lost consciousness on Wednesday during her practice at the World Swimming Championships in Budapest. The 25-year-old American, who may 'normally' return to action on Friday, had to be taken out of the water by her coach Andrea Fuentes.
"I say this very often to Andrea and other people: I am very grateful that she is my coach," Alvarez says at NBC Newsin her first interview since Wednesday's events.
The American national coach Fuentes, herself a successful synchronized swimmer in the past, did not hesitate for a moment and dived into the water when she saw that Alvarez got into trouble at the end of the exercise and slowly sank to the bottom. With the help of a lifeguard, the Spanish moved her pupil to the side, where Alvarez immediately received medical attention and regained consciousness.
It was the second time that Alvarez was saved from drowning by Fuentes. Last June, the coach also jumped into the bath when the American passed out during an Olympic qualifying tournament in Spain.
Alvarez's mother told CBS that her daughter has passed out three times in the pool. The first time it didn't happen during a match.
The American team said in a statement that Alvarez became unconscious on Wednesday due to the great effort she made during her exercise. Fuentes told the Spanish newspaper marca that "we must remember that this can happen in endurance sports. In our sport, it only happens in a swimming pool."
Anita Alvarez (center) is brought to the surface by her coach Andrea Fuentes (left).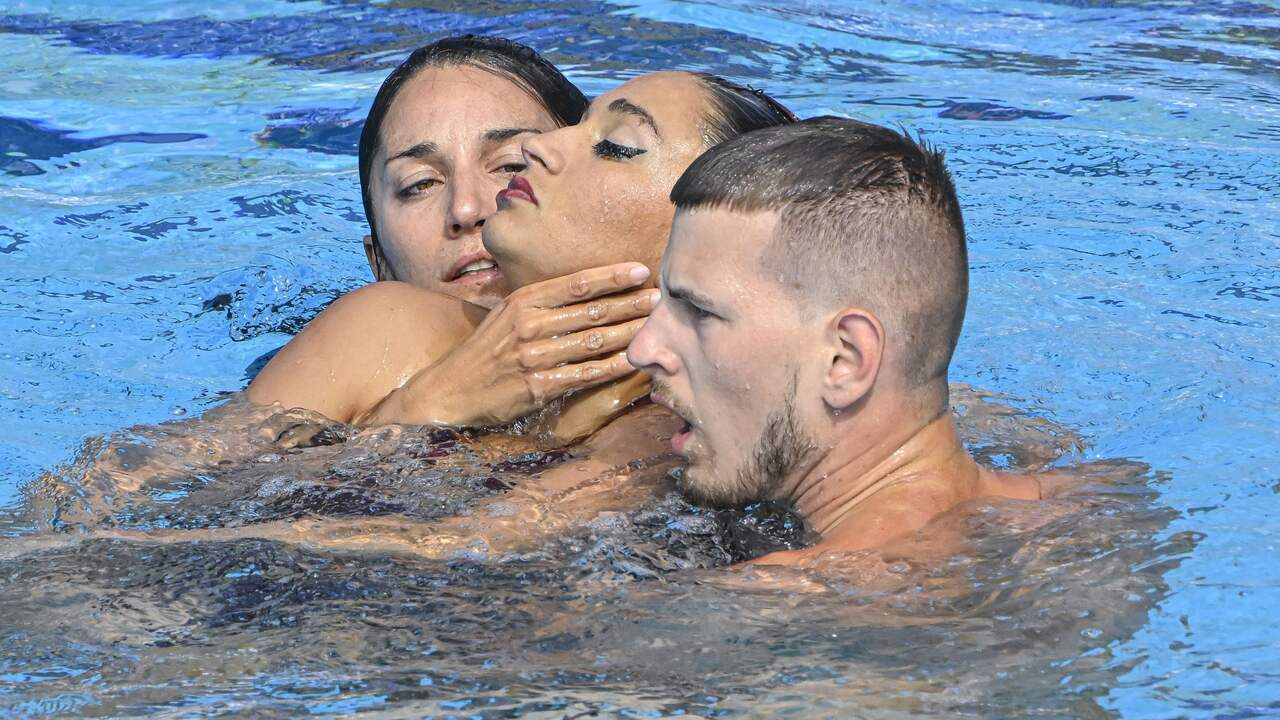 Anita Alvarez (center) is brought to the surface by her coach Andrea Fuentes (left).
Photo: ANP
"I want to focus on the last two days of competition"
In the interview with NBC News, Alvarez says she felt she was doing one of her best exercises ever on Wednesday. "I really gave it my all. I remember sinking to the bottom at the end and thinking, oh oh, I'm not feeling great. That's the last thing I remember."
Alvarez has been examined by doctors for the past 36 hours and nothing crazy has been found, according to the American association. "I'm okay and healthy," the two-time Olympian wrote on Thursday Instagram† "I have two more race days that I want to focus on."
It is possible that Alvarez will participate with the American squad in the final of the team event on Friday evening. Last year, hours after she passed out in Spain, she returned to the pool for the next game.
---