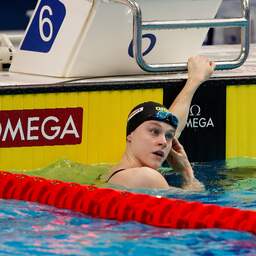 Maaike de Waard finished eighth and last in the 50-meter butterfly at the World Swimming Championships in Budapest on Friday. The 25-year-old swimmer touched in 25.85 seconds.
She was more than half a second short of a medal. De Waard was also slightly slower than Thursday in the semifinals, when she swam a personal best with 25.75.
The gold went to the Swedish Sarah Sjöström in 24.95. For the 28-year-old swimmer, it was already her fourth gold World Cup medal in the non-Olympic part.
Melanie Henique from France took silver at an appropriate distance (25.31). The bronze went to the Chinese Yufei Zhang (25.32).
In the 50-meter freestyle, Valerie van Roon and Kim Busch missed the final. Both swam in the semi-finals with a time of 25.19 seconds and were thus joint thirteenth. Only the top eight will advance to the final.
---