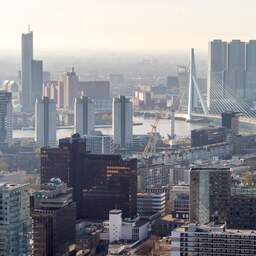 The skyline of Rotterdam is once again changing considerably. In the coming years, a new meter high residential tower will be built on the corner of Kruiskade and Lijnbaan. Lumière is about 200 meters lower than the Zalmhaventoren.
It is not for nothing that the creators call the multifunctional complex a 'beacon of light and space'. Images of the preliminary design show that KAAN architects envision a white tower with a sleek facade grid.
The 416 apartment houses all have a recessed balcony and are between 42 and 113 square meters. They have high ceilings of almost 3 meters.
The houses are intended for households of one or two people with an 'urban modern lifestyle'. Residents such as 'young professionals, urban nomads and empty nesters', write the developers. At least 30 percent of rental properties consist of mid-range rent, writes Top010† That equates to a rent of approximately 763 to 1,075 euros per month.
Luxury hotel
An atrium is to be built on the ground floor. This includes the entrance to a cafe and the reception of a luxury hotel with 182 rooms and suites. A restaurant with a large roof terrace is to be built on the second and third floors.
A 'social programme' has been signed up for the fifth floor: "We are thinking of an anthroposophical medical center with space for, among others, general practitioners, psychologists, dietitians and physiotherapists with a focus on vitality and prevention", can be read on the website of the skyscraper. .
A bar, offices and a convention center will be located on the eleventh and twelfth floors.
Finally, the plinth offers space for shops and restaurants, with outdoor space in between where visitors can walk and enjoy a terrace. Lumière's website emphasizes that the building will be located in the 'luxury shopping hotspot of Rotterdam', with expensive brands such as Rolex, Patek Philippe and Cartier. It is the intention that such brands will establish themselves in the plinth.
Above the houses, in the crown of Lumière, there will be communal facilities for residents, such as a roof terrace, sleeping places for guests and a communal kitchen and living space.
Lumière will be built where once the famous cinema Lumière was and is being developed by Manhave and VORM. Construction is expected to start in 2025, writes Architect's Web† The current zoning plan for that site still needs to be amended.
---