Steve Jackson's Sorcery has hit the digital shelves of the Xbox Store. We asked community member DM4S to take care of this game and provide the XBNL supporters with a review.
Pen & Paper Role Playing Adventures: Who Didn't Grow Up With It? Well, I don't, I'll be honest. Often this genre is seen as obscure and only for "nerds". Yet there are many people who enjoy many hours of fun here. A disadvantage is often that you have to play this with a group of people. And don't let everyone have access to this (including the undersigned). Here, developer Inkle offers a way out with Steve Jackson's Sorcery. This game adaptation was already released in chapters for the IOS systems in 2013, with the last chapter seeing the light of day in 2016. Now, six years later, the four parts are coming to Xbox in a complete package.
Looking for the Crown of Kings
The story of these books is about an Analander who goes in search of the Crown of Kings in a world called Titan. This world is located on the continent The Old World. The Crown of Kings, which when worn contains magical powers of leadership, has been stolen by the evil Archmage of Mampang Fortress. It's up to you the Analander to defeat the Archmage and capture the Crown of Kings to prevent an invasion of Analand.
The story is divided into four chapters. Each chapter tells a part of the journey where you start in The Shamutanti Hills and try to find your way to Kharé. Once you arrive in Kharé, your journey begins in Chapter 2, where you must search for the four phrases of a magical spell to open the door to the Baklands. This is where Chapter 3 starts and you will have to look for seven Serpents that are on their way to warn the Archmage of your arrival. So it's up to you to beat them, so they can't report. Chapter 4 is then the big denouement and climax of the previous stories.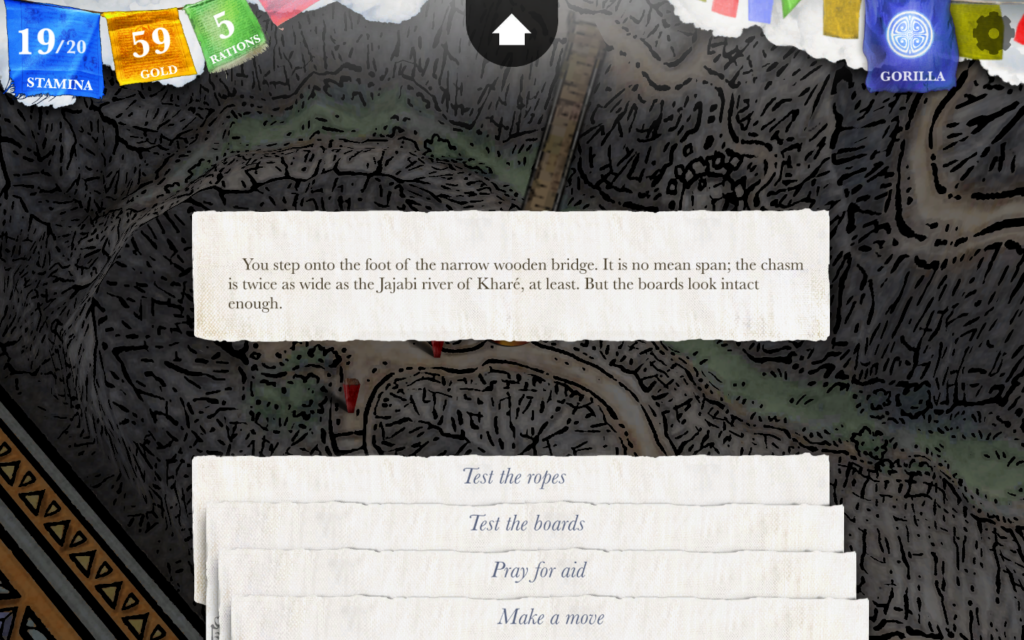 Make choices
You will be given the choice to play each of these chapters separately or to finish the entire story in one sitting. The choices you make appear to a small extent in the following chapters. I should have done something more with this and now at most only a reference is made to the event. How cool would it have been if you betrayed someone in Chapter 1 who would then avenge you in one of the following chapters, forcing you to start all over again. That would ensure that you would be very conscious of your choices. The whole thing now seems to have little impact and that's a shame.
A big "disadvantage" (it just depends on how you look at it) in the choices you make is also the option to rewind. If you are not happy with the outcome of your choice, you can go back to the step where it went "wrong". This does take some tension out of the game (although this is of course up to you to use or not). The story, on the other hand, is excellent and because there are so many choices and paths, the game has a high replayability value. No single play session will be the same.
A flat intention
Then when we look at the gameplay, the adventure starts with choosing your character. Unfortunately, the choice here is quite limited. You choose from male or female, but there is no option to choose a class, for example. Once this choice has been made, a playing field appears in the form of a medieval map with accompanying drawings and names. At the top left you will find your Stamina (when it's gone, it's game over), Gold (to buy stuff, of course) and Ration (with which you can get stamina back).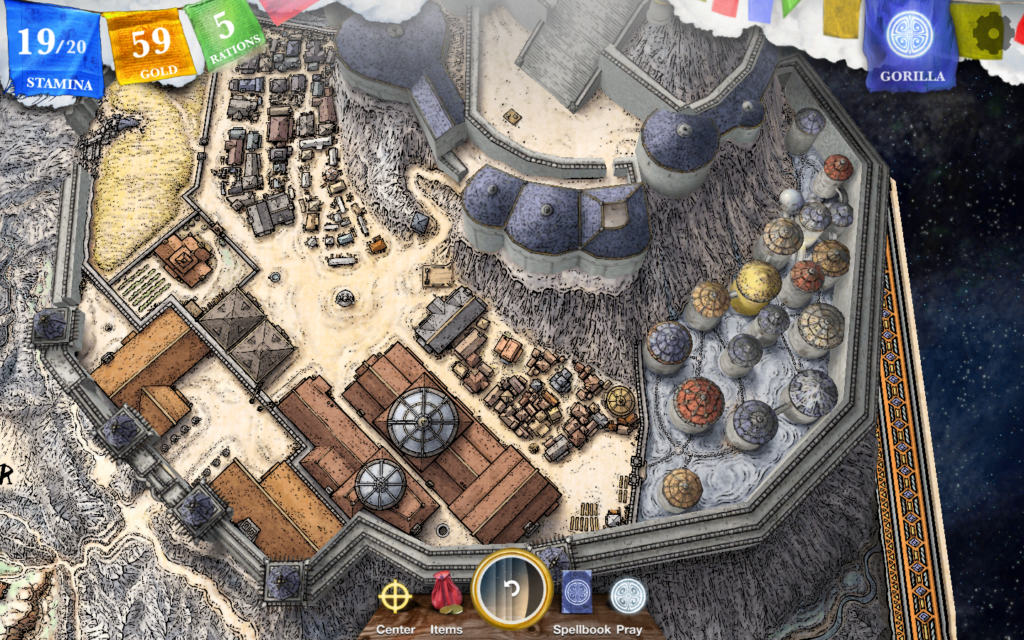 The playmap is nicely designed but I would have liked a bit more 2.5d. Now it is mainly a flat intention. Would this map also have shown the villages, cities and the various locations, it would already look much nicer.
On the map, your character moves by means of a pawn, which makes it seem as if you are playing on a large game board. Because the game is an adaptation of a Pen & Paper RPG, almost everything is told through text. So everything you "see" in the game comes from your own imagination.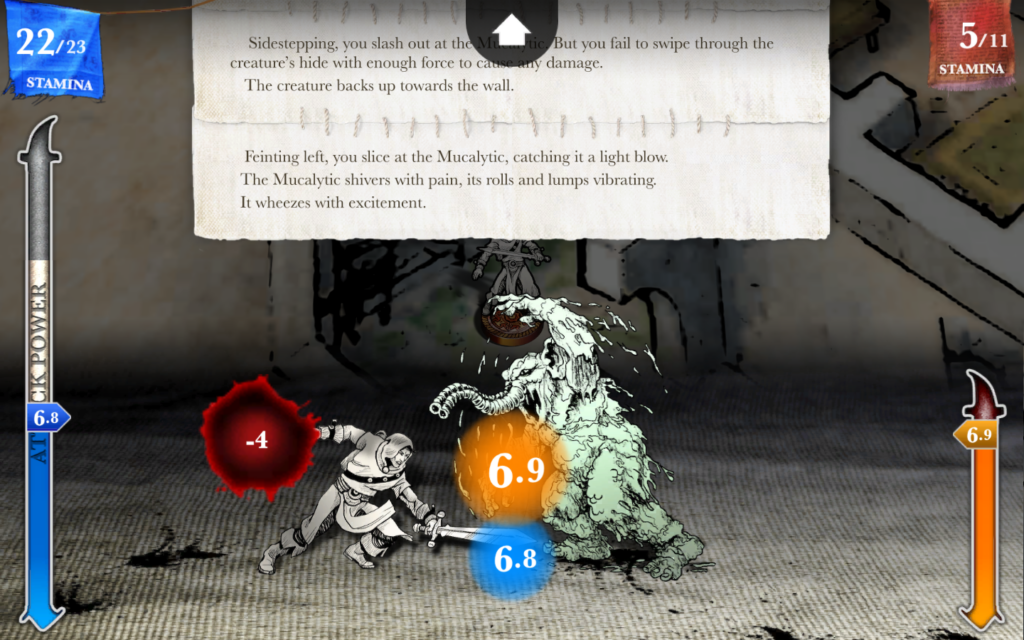 There are also some small game elements that are illustrated, such as battles and Swindelstones (a dice game). However, the combat system itself is not much and mainly consists of whoever uses the highest Attackscore wins the fight. Swindelstones is a fun dice game where you have to guess how many dice are on the table. If you give a correct answer, the opponent has to hand in a die. Especially in Chapter 2 where there is a casino you can have hours of fun with it.
Conclusion
Overall, the game is well cast in a game format. The story is interestingly written, but because the game contains so much text, it can also feel boring. Choices could have had a little more influence. A battle system with more depth would not have been an unnecessary luxury. On the other hand, you can really lose yourself in Swindlestones. If, like me, you don't have a regular group with which you can play Pen & Paper RPG adventures, Inkle's Steve Jackson's Sorcery is a great solution and will give you many hours of fun.
---