Last week the first expansion of OlliOlli World was released. Is the OlliOlli World: VOID Riders DLC worth your while?
Since February 2022 you can play OlliOlli World on Xbox. I took a close look at the Roll7 game around release and came to the favorable conclusion in my XBNL review:
We can't have enough platformers on Xbox. But, really good platformers can be counted on one hand and we can add OlliOlli World to that. The game developed by Roll7 offers great side-scrolling platformer action, characterized by smooth controls and beautifully designed levels. Variation and creativity has been included in all layers of the development process: from unlockable cosmetics, objectives to be achieved and tricks that you can perform with your skateboard as a player. OlliOlli World brings a wonderful vibe to the fictional Radlandia, a place where you as a player can easily lose yourself for tens of hours.
OlliOlli World is therefore more than worth the requested 25 euros. So it's high time for a sequel!
VOID Riders (DLC)
On top of the base game, the first expansion was released last week. You can purchase this for 10 euros. What can you expect from this expansion?
OlliOlli World: VOID Riders is the first expansion in a series of two. This DLC is again set in the fictional Radlandia, where alien skaters Sair'Rah, Khehvyn and Pftangxi have arrived. They have a clear mission, which is to obtain skate parts and hand them over to the Nebulord (a kind of supreme skate-god).
A nice uncomplicated story, of which you already understand that it is of course about the gameplay. Well, let's stick with the story for a while. How do we come face to face with the Nebulord? Right, by showing your skills in the new levels, which you then use to unlock these parts. To achieve this, your character must work to complete a variety of challenges. These challenges are interwoven in about 18 new levels. A number of basic levels to complete and four boss levels to beat, more about that in a moment.
More of the same and that's more than fine!
So for a tenner you have 18 new levels to play across the entire map. These levels together are good for quite a few hours of gaming!
In terms of appearance and gameplay, the new levels are comparable to the levels you encountered in the base game, but you clearly see some more 'alien' atmospheres returning in terms of design. The new levels can be found in Cloverbrook, Sunshine Valley and Burntrock and as a newcomer you will first have to unlock them. That unlocking is fully incorporated in the base game and arises in a very natural way by making progression.
When you have played the new levels in the three areas, you also unlock a new map, namely the VOID. Here you will skate the final levels and eventually defeat the Nebulord.
The new levels are tough, especially if you haven't played OlliOlli World in recent months and you want to start with the new levels right away. However, the way the new levels are designed implies that you are at the end of the 'learning curve': you have mastered the different combos well, you know how to use the different obstacles that the game offers and you are quick to switch between the different buttons that you have at your disposal on your controller.
My first attempts at the new levels were completely unsuccessful. I really had to work with the first few levels of the base game again, in order to get the 'muscle memory' sharp again. After half an hour of trial and error, I was ready to meet the alien skaters and have a good time with the DLC.
Everything comes together beautifully!
The new levels are fantastically designed from a gameplay perspective. All the skills you've learned are integrated into the new levels: tricks, grinds, wall jumps and more! Also some new tricks are requested. For example, elements have been added that influence the gravity of your skater and the developers have also added many more moving elements. It is also asked that as a player you learn to combine different tricks in succession and you will have to control your speed even more to, for example, make higher and further jumps, or to ensure that your jump is less far, so that the timing on the next obstacle can be taken more precisely.
The VOID Riders DLC is a delight for advanced OlliOlli players. Not only because of the above-described variation in tricks, but also the different challenges associated with each level. These are diverse and especially invite you to discover different playing styles. There is more than just grinding and defying obstacles.
The structure in the new levels is also well thought out. Each world has three new base levels. These must be completed, after which a boss level must be defeated. These boss levels are extra challenging. The changing tricks demand even more flexibility from the player, there are no checkpoints to be achieved and the levels take just a little longer. The boss levels are really tough, but the satisfaction all the more.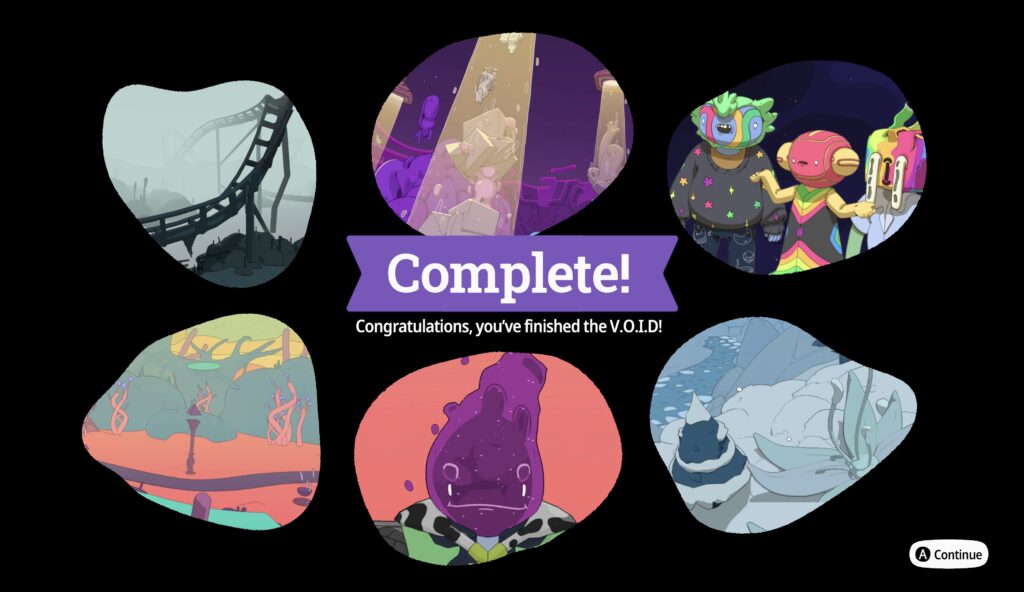 After about 5 hours of perseverance, you will have defeated the VOID and there are still many hours of extra challenges for the real go-getter. It's also great to notice that this game can be played flawlessly. Without bugs, performance problems and other imperfections that can take you out of the experience of the game. The developers of OlliOlli World also know how to deliver quality with VOID Riders, for a more than reasonable price!
Conclusion
The developers of OlliOlli World manage to bring an excellent first expansion with the VOID Riders DLC. The VOID Riders DLC is characterized by a great skate vibe, smooth side-scrolling platformer gameplay and adds 18 spicy levels. Did you enjoy OlliOlli World? Then purchasing the VOID Riders DLC is a guaranteed success!
---