All episodes of Obi-Wan Kenobi (2022) can be seen on Disney+ since Wednesday. Now that the first season has come to an end, there is of course plenty of speculation about a possible second season. If it's up to protagonist Ewan McGregor, there's going to be another season.
In an interview with British GQ, McGregor is asked if he would like to make another season. The Obi-Wan Kenobi actor is clearly enthusiastic and does not hide this.
I really hope we do another one. If I could do one of these every now and then – I'd just be happy with it.

Ewan McGregor
Hayden Christensen also wants to continue as Darth Vader
Hayden Christensen, who returned in the new series as Anakin Skywalker, aka Darth Vader, would also like to continue with this character. He doesn't care if this is in a second season of Obi-Wan Kenobi or in another Star Wars project.
Well, it was definitely conceived as a standalone story. But I would like to continue with this character. I think there is definitely more to discover and I would be so excited to do that…I would definitely be open to it [om terug te keren voor Obi-Wan Kenobi seizoen 2]†

Hayden Christensen in an interview with Radio Times
Season 2 is unlikely
Whether there will be another season, however, depends on Disney+ and Lucasfilm. The series was announced as a miniseries, which generally means that it will stay with 1 season. Series creator Deborah Chow is also clear: "We really made this as a miniseries". You can only move forward with something like this if there is a real reason for it, she says in an interview with Entertainment Tonight, but it doesn't seem to be here. So for now we have to make do with the first season on Disney+.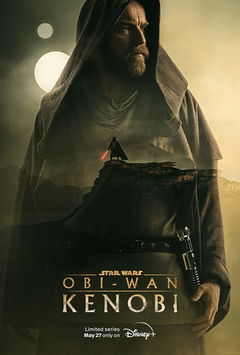 7.2 Watch on Disney+ • Ewan McGregor returns as the iconic Jedi Master in the upcoming 'Obi-Wan Kenobi' series. The story begins 10 years after the dramatic events of Star Wars:
Image: Still 'Obi-Wan Kenobi' via Disney+ / © 2022 Lucasfilm Ltd. & ™
---