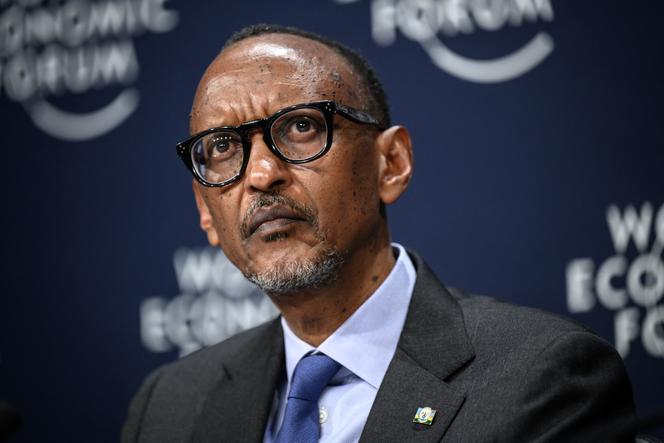 Rwandan President Paul Kagame at the World Economic Forum in Davos, May 25, 2022. FABRICE COFFRINI / AFP
Rwandan President Paul Kagame said on Tuesday June 21 that the controversial agreement with London to receive illegal migrants deported from the United Kingdom could still be applied and implemented with other countries, the asylum system being "faulty" .
The British government has decided to send asylum seekers to Rwanda who arrived illegally in the country, claiming to want to curb illegal crossings of the Channel. But the first flight was blocked on June 14 by an emergency decision from the European Court of Human Rights.
Read also: Article reserved for our subscribers The British government sees its first flight of asylum seekers to Rwanda canceled for lack of passengers
"I think this agreement is still in force and could be implemented," Paul Kagame said in a videoconference at the Qatar Economic Forum in Doha. "We are not novices on the subject", continued the Rwandan president, recalling that his country has welcomed more than 100,000 refugees for decades. "Most Rwandans have had the experience of being refugees at some point in their lives. We know what that means and we are doing it for the right reasons," he said.
Paul Kagame notably mentioned the reception of more than 1,000 Libyans in collaboration with the United Nations High Commissioner for Refugees. "The agreement with the United Kingdom is linked to this experience. There is no doubt that the asylum system is flawed and needs innovative solutions and we are happy to contribute to these solutions", underlined the Rwandan President, believing that it could be adopted by many. other countries.
Read also: Article reserved for our subscribers Mobilization in the United Kingdom against the sending of asylum seekers to Rwanda
Highly criticized by the UN and NGOs, London's plan to send asylum seekers who have arrived illegally in the UK to Rwanda (more than 6,000 kilometers away) is very popular among the conservative electorate. The East African country is hosting the Commonwealth Summit on Friday and Saturday.
To not miss any African news, subscribe to the World Africa newsletter from this link. Every Saturday at 6 a.m., find a week of news and debates covered by the editorial staff of Le Monde Afrique.
---