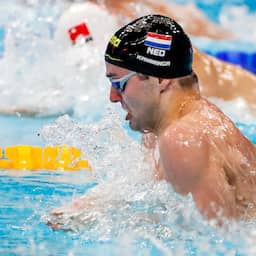 Caspar Corbeau and Arno Kamminga qualified for the semi-finals on Wednesday in the 200-meter breaststroke at the World Championships long track swimming in Budapest. The two were among the sixteen time fastest in the series.
The 21-year-old Corbeau scored 2.09.15 and that was good for the second time in the series. The day after winning bronze with the mixed relay team, the five-year-older Kamminga set 2.10.33. He thus moves on to the semi-final in tenth place.
Olympic champion and world record holder Zac Stubblety-Cook from Australia was the best in the series with 2.09.09. He is one of the favorites in the final, which will be played on Thursday evening. The semifinals in the Duna Arena will take place on Wednesday evening.
Marrit Steenbergen and Tes Schouten return on Wednesday evening for the semifinals of the 100-meter freestyle and the 200-meter breaststroke respectively. Steenbergen qualified seventh for the semi-finals of the 100-meter freestyle.
In the 200-meter breaststroke, Schouten went on to reach the semifinals in eleventh place with 2.26.85. Canadian Kelsey Lauren Wog was the fastest in the series at that distance with a time of 2:24.37.
The semifinals in Budapest are scheduled for Wednesday from 6 p.m. In addition, Kira Toussaint swims around 6.30 pm in the final in the 50 meter backstroke, for which she placed seventh on Tuesday evening.
---