Did you also enjoy Rebel Wilson's latest comedy film Senior Year (2022) and want to see more of it? Netflix has it all for you. Wilson herself walks you through the dance scene in which she dances to the Britney Spears hit Crazy, step by step. The video can now be viewed.
In this film, Wilson takes on the role of Stephanie. A cheerleader who wakes up after a 20-year coma and decides to finish high school. Not only that, she's also rejoining the cheerleading squad. However, she is not completely satisfied with this new team. They disappoint somewhat, there is no more seductive dancing and no more stunts are performed. Stephanie thinks this must change. She introduces her ideas using the song Crazy. Although Wilson is not a trained dancer, it was still a fantastic experience for the actress. The fact that there would be dancing to a song by Spears made it all the more great for the Australian: "Who wouldn't want that?" She tells you all about it in the video below:
Senior Year is directed by Alex Hardcastle, known for Grace and Frankie (2015–2022), New Girl (2011–2018) and The Office (2005–2013). In addition to Wilson, there are also roles for Mary Holland, Molly Brown, Angouri Rice, Sam Richardson, Zaire Adams and Zoe Chao, among others.
Senior Year is now available on Netflix.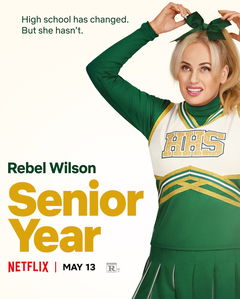 5.5 Watch on Netflix • A 37-year-old woman wakes up from a coma after 20 years and returns to high school where she was once a popular cheerleader.
Image: Still 'Senior Year' via TMDb
Text: Netflix
---