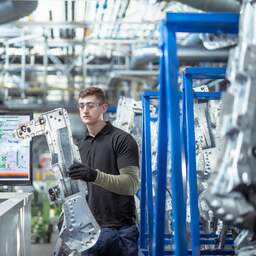 After all these years of toil, you finally have your high school diploma in your pocket. Time for the next step: a study. But which? Do you choose a study that is especially enjoyable or do you also take into account a favorable position on the labor market? And are there actually any useless studies? Read the tips for a good study choice here.
Useless studies do not exist, says market researcher Mirjam Bahlmann of Qompas, a company that specializes in career development. "We never say: you can't do anything with this study later. That is not the case. In all studies you acquire skills that help you in a job. A study is not an end point these days, you can see it more as the starting point ."
Because who still works for the same employer all their lives? During your career you make steps and you continue to develop, but your development starts with choosing a study. Then it is important to make a well-considered choice of study based on as much information and experience as possible.
1. Discover yourself
Who are you, what do you like and what can you do? These are important first questions to ask yourself when making a choice of study. Bahlmann: "Always start with your own personality, interests and competences. Then you can look at studies that match. You can also take a test to gain good insights."
"You can't keep up with a study that you have absolutely no affinity with."
Didier Fouarge, professor of economics
Didier Fouarge, professor of economics at Maastricht University, agrees. Choosing a study that does not suit you can have many consequences later on.
"You can't keep up with a study that you have no affinity with at all. In the long run you will drop out with all the consequences that entails. That is a great shame," he says.
2. Choose a field of study that suits you
MBO studies are often more practical and concrete: you find a profession interesting and choose the study that suits it. Think of a nail technician or hairdresser.
But learning for a data specialist? You often can't imagine that much. This also makes it more difficult to choose a study.
It is important to study this thoroughly and to invest time in it, says Bahlmann. "We explain all kinds of professions. This also makes abstract professions a bit clearer."
3. Investigate how future-proof a job is
Today's job market is extremely overstretched. So you might think: it doesn't matter what you study, you'll find a job anyway. Still, according to Fouarge, there is a big difference in the quality of jobs. "I think it is important to inform prospective students that you can also take the future prospects of the job into account."
For example, administrative and logistics functions are less future-proof, because there is a chance of automation. These are usually jobs that pay less well, have few career advancement opportunities and require routine skills and skills.
"You also see a lot of demand for privacy officers. There is not just any training for this at the moment."
Mirjam Bahlmann, market researcher
Jobs in technology, care and education, on the other hand, offer better prospects for the future. "Go and study as high as possible, then you will end up well, does not apply here. It is not a question of level, because in these sectors the opportunities are good for MBO students and higher educated. It is above all a question of the right sector," explains Fouarge.
Finally: the unpredictability
You can therefore take a number of points into account when choosing your study so that you can make the right choice later on. But your study doesn't tell you everything. New professions will also emerge. Bahlmann: "An example of this is cybersecurity. This is a relatively new profession. You also see a lot of demand for privacy officers. At the moment there is not just any training for this."
Then there is the power of the media. "Unfortunately, we see that this has a major impact on prospective students. Negative reporting about, for example, education and care ensures that students do not orientate themselves on these professions. They only rely on what they hear," she says. "It's a shame, because if prospective students were to look into it, they would certainly have a different picture of these sectors."
We do not have permission for the necessary cookies. Please accept the cookies to view this content.
---