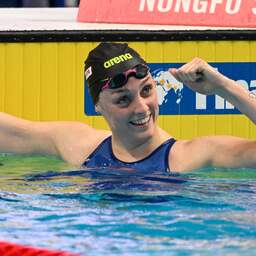 Marrit Steenbergen reached the semi-finals in the 200-meter freestyle at the World Swimming Championships in Budapest on Monday. Caspar Corbeau made it to the men's semifinals in the 100m backstroke.
Steenbergen just missed the final in the 200-meter medley last weekend, although she did improve her personal best to 2.10.60 in the series.
In the series of the 200 free she was good for the thirteenth time (1.58.33). The Chinese Yang Junxuan was the fastest in 1.56.58. Corbeau qualified eleventh in the 100m backstroke for the semifinals in a time of 27.48.
The semi-finals Steenbergen and Corbeau are scheduled for Monday evening. Kira Toussaint will compete in the final of the 100-meter backstroke at 6.51 pm. The 28-year-old Dutch is not one of the top favorites.
---