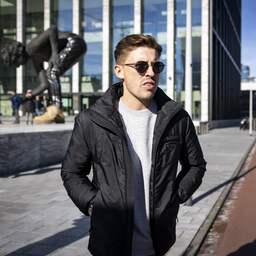 Jaimie Vaes and her ex Lil Kleine still do not see each other. Jorrit Scholten, as Lil Kleine is really called, also has no contact with their child Lío. Vaes reported this on Monday in a short interview with RTL Boulevard.
Vaes filed a report against Lil Kleine three months ago after an incident was filmed in which he clamped her head between a car door and rammed her. Vaes now lives with her child in Spain.
"We have no contact and that's fine," said the socialite. "It's been good for both parties to get out of the not-so-healthy situation altogether."
Lil Kleine does not see his son Lío. It is unclear whether this restriction has been imposed by the police or whether the two exes have chosen this themselves. "I hope that will change in the future," says Vaes. "And if not, I'll do it alone. That's fine too."
Vaes also does not receive alimony from Scholten. "That turned into a fight," she says. "I thought: keep it nice, then I'll do it alone." The Public Prosecution Service has not made any further announcements about the case since April.
---