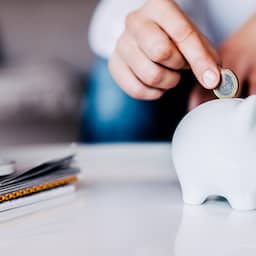 Mortgage interest rates are rising, interest rates on personal loans are rising. But the other way around, the consumer is still of little benefit: the interest on savings is (still) lagging behind. What exactly does that mean and what does that mean for you as a consumer? Four questions about rising interest rates.
1. Why are interest rates going up?
Banks base their interest rates on capital market interest rates, explains Amanda Bulthuis of Geld.nl. "There is a lot of uncertainty on the capital market at the moment, due to high inflation and the war in Ukraine. This is compensated by higher interest rates. Mortgage and lenders pass these high interest rates on to their customers." In addition, the European Central Bank (ECB) is likely to raise interest rates at the end of July. That is the first time in eleven years. The Federal Reserve – the US banking umbrella – also raised interest rates by 0.75 percentage point this week.
Raising interest rates makes it more attractive to save and less interesting to invest. In this way, banks hope to curb inflation. Bulthuis: "Due to the interest rate hike by the ECB, capital market interest rates will rise even further, so that loan and mortgage rates will also rise further."
2. What does that mean for borrowing money?
Consumers will pay more interest on their mortgages and loans. Mortgage rates have been rising since the beginning of this year and shot up even more last week due to the turmoil in the financial markets. Last September this was at its lowest – an average of 1.42 percent – last Friday the interest had risen to an average of 3.72 percent, according to figures from De Hypotheekshop.
The interest on personal loans has also increased. The lowest interest rate for a personal loan of 10,000 euros has gone from 4.9 percent to 5.4 percent since the beginning of June, Geld.nl states.
Bulthuis: "We see that there is quite a demand for loans, for example for renovations and renovations. People often choose to increase the mortgage, but that is not always the cheapest option. A personal loan can be cheaper if you need a smaller amount. because you don't have to go to the notary and you don't pay advice and closing costs."
3. And will savings interest rates also rise?
Yes, the interest on savings is going up a little bit, but only for people with a large savings account. Three major banks dared to raise interest rates. The banks used a negative interest rate for wealthy savers, which now goes to 0 percent (at ING and ABN AMRO) and is slightly lower at Rabobank (from 0.5 negative to 0.25 percent negative).
Do you have less than 100,000 euros in savings? Then little will change. "Banks look to the ECB interest rate for this," says Bulthuis. "That's where they have to put their money, and at the moment that still costs banks money. So I think it will take a while before the banks raise interest rates on savings."
4. And if you keep money in the form of a deposit for a longer period of time?
If you save in the form of a deposit, you lock in money for a longer period of time. For example 1, 5 or ten years. You now receive a small amount of interest on such a savings account, but this does not exceed the percent even if you lock it for ten years. Bulthuis: "With longer maturities, banks have more certainty about investing that money. Customers can always withdraw money from savings accounts, and then the money has to be there."
We do not have permission for the necessary cookies. Please accept the cookies to view this content.
---