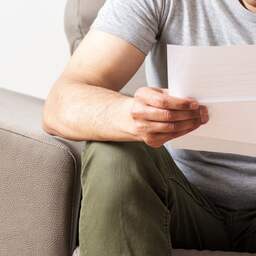 Many Dutch people have now received their final assessment for income tax. But what if something isn't right. When do you have to lodge an objection with the tax authorities?
In many cases, the final assessment will not differ from the assessment you received after you completed the income tax return. Still, it's good to check the attack. "If something is not right, it is often not even necessary to object," says Estelle Cool, press officer at the Tax and Customs Administration. "You can make a change up to five years after the year to which the declaration relates. On our website we have: a tool in which you can check whether you have to objector whether reporting a change is sufficient."
With a change you can correct an error or add data. "For example, if you have not made optimal use of deductible items," says Tosca Voogd of De BelastingBespaarders. "You could last increase your study costs in 2021. But also think of medical costs or charities. If you have not specified these, you can still adjust it. Check that, otherwise you may miss out on money."
"You must object to the final assessment within six weeks"
You can change the return via My Tax Authorities. "Not through the app," Cool says. "That really has to be done via the internet or on paper. If you want to do it on paper, you have to fill in the declaration again. That is some work, but 1 percent of the declarations are made on paper."
How do you object to your tax assessment?
If there is nevertheless a reason that you want to object to the final assessment, you must submit it within six weeks of the date of the decision. This can be done online, with your DigiD, via a form or in writing. Cool: "In that case, state all your details, such as your name, signature and address, in a letter. But also the number of the assessment, the reference and the reason why you object. If you are later than six weeks, you can apply for a reduction for another five years."
Objecting because of the box 3 scheme
An important reason why people will object this year is because of the well-known Box 3 scheme. There was much to do, because the fictitious return on capital was higher than the actual return achieved. The Tax and Customs Administration is therefore coming up with a new calculation method to determine how much tax must be paid on capital† That is why Dutch people with assets above the exemption limit of 50,000 euros will not receive their final assessment until the end of July or early August.
"If your return is lower than the return that the tax authorities come up with in your final assessment, it may be wise to object."
Tosca Voogd, The Tax Savers
"So make a calculation for yourself to see what your actual return was in 2021," says Voogd. "If that is lower than the return that the tax authorities come up with in your final assessment, it may be wise to object. The Supreme Court recently ruled that people who have objected to the fictitious return since 2017 will receive a refund. the Supreme Court has decided that the government does not have to provide targeted Box 3 compensation to people who objected too late (or not at all."
Registering accounts abroad
Voogd also warns against bills abroad. "The Tax and Customs Administration is receiving more and more information. If this information is not yet included in your tax return, it is better to declare it yourself if your total capital exceeds the exemption limit. They are quite strict about not stating capital in Boxes 2 and 3, so that can cost you a lot of money."
If you have applied for a postponement to complete your tax return, you have until 1 September.
---