The fifth film in the Despicable Me franchise will be released at the end of this month. To keep the audience warm there is a new clip from the Minions: The Rise of Gruz (2022) published. In these new images, we see the Minions learn a wise lesson: doubt exists only in the mind. The video can now be viewed.
It is now clear that Gru is not a superhero but a supervillain, but we don't know whether he has always been like that. In Minions: The Rise of Gru, the Minions get to see the Mean as a child. That the new film is full of humor again is apparent from the new images in which we see that the Minions like to receive wise lessons, but do not necessarily want to apply them to themselves.
Gru is voiced again by Steve Carell. We also meet Gru's mother whose voice is provided by none other than Oscar-winning actress Julie Andrews. The list of big names seems endless, because those who choose the English version will hear the voices of Danny Trejo, Jean-Claude Van Damme, Taraji P. Henson, Russell Brand and Michelle Yeoh.
Minions: The Rise of Gru is out June 29 to see in the cinema.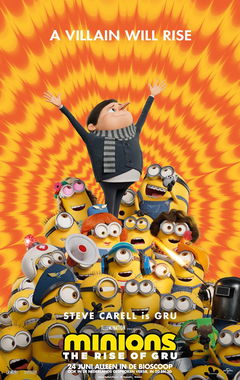 7.5
Minions: The Rise of Gru (2022)
Long before he becomes a super villain, Gru is a 12-year-old boy in a suburban 1970s who plans to take over the world from his basement.
Image: Still 'Minions: The Rise of Gru' via TMDb
---