Thea Hilhorst sees disaster relief not only taking longer, but also changing direction. The disaster and crisis expert is one of six professors who will today receive the Spinoza and Stevin Prize: with 2.5 million euros per person, the largest scientific prize in the Netherlands.
This article is from the Volkskrant. Every day a selection of the best articles from newspapers and magazines appears on NU.nl. You can read more about that here.
At the beginning of the Ukraine war you saw them constantly: people who on their own initiative drove cars or buses to Poland or the Ukrainian city of Lviv to pick up refugees. 'Moving', said professor Thea Hilhorst when she saw this up close in a reception center in The Hague.
Hilhorst (1961) is used to standing with her feet in the mud after disasters. As a professor of humanitarian aid and reconstruction (Erasmus University), she sometimes investigates on the spot how aid gets underway after a disaster and during other crises, such as wars. She was in Sri Lanka after the 2004 tsunami, and soon she wants to go to Ukraine.
Today she is awarded one of the four Spinoza Prizes for her scientific work. The annual prize of 2.5 million euros per person (considerably more than a Nobel Prize) is awarded by the Netherlands Organization for Scientific Research, NWO. It is the highest scientific award in the Netherlands. Two professors will receive the Stevin Prize, also 2.5 million euros per person, for the social impact of their research.
What does your research involve?
"I am interested in what happens in societies during a major crisis. How do people save themselves, what does civil society do? My PhD students go to such a place and conduct interviews with people. Often they also have roots in such In a region, then you understand the local situation better. I also look at the role of international aid, and in particular how it has changed in recent decades."
South Sudanese wade through the waters of the White Nile that has flooded their village.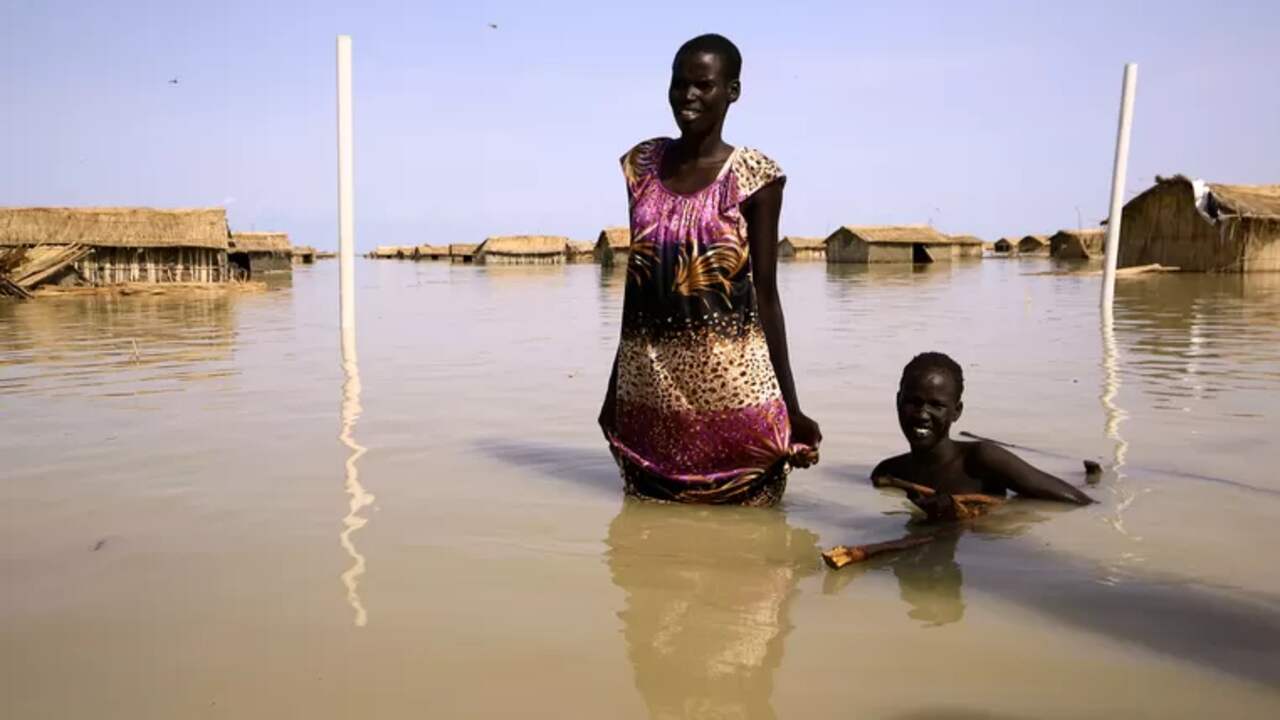 South Sudanese wade through the waters of the White Nile that has flooded their village.
Photo: AFP
How has aid changed?
"Until the beginning of this century, the idea was: a crisis is exceptional and temporary, so assistance is also so, so when the fire is extinguished, aid organizations leave again. But the practice is much more unruly. Often conflicts last much longer, look to Afghanistan or South Sudan. Refugees stay in refugee camps for an average of seventeen years and it is now clear that you also have to offer them perspectives to build something up."
Does that explain why Ukrainians seem to integrate faster here?
"Partly. Ukrainians are of course also Europeans, we feel more connected to them. But the policy to integrate refugees more quickly is also really new, it follows, among other things, from the recent Global Compact on Refugees of the world refugee organization UNHCR. In the early days of the Ukraine crisis, State Secretary Van der Burg said: 'Now we are the region.' I thought that was a key phrase."
At the same time, asylum seekers' centers are overcrowded.
"This is mainly due to reception policy from the past, and not so much because we are taking in more people. Many asylum seekers' centers have been closed in recent years. It is also difficult to move on to housing at the moment."
What else has changed in crisis assistance?
"The attention for prevention has increased: how do you ensure that local authorities themselves know how to deal with disasters? People in affected areas are not only victims, you can also use their input. Thanks to that input, for example, warning systems have been set up and shelters which has drastically reduced the number of victims of hurricanes, from hundreds of thousands thirty years ago, to dozens today."
'Self-reliance' sometimes also seems like an excuse to do nothing.
"There are also problematic sides to the story that people who are self-reliant need less help. We as scientists have to be critical of that. If there is no work for refugees in a certain area, they both receive no more help, and they can can't save themselves. Basically you just abandon them."
How does your work contribute to better care?
"For example, by providing insight into how social tensions can emerge after a disaster. In 2017 I was with PhD student Samatha Melis in Sierra Leone, after part of a mountain in the capital Freetown had been washed away. Houses had been swept away, it was a drama with hundreds of deaths in a country that had just come out of civil war and had experienced Ebola.The relief efforts led to all kinds of tensions, for example because local district leaders were allowed to make lists of the people who had been affected and receive money. distrust that they favored family or friends. If you then ensure that there is a good control system, you can help prevent problems. There are more and more initiatives like this."
There have been many private initiatives around the Ukraine war, such as people bringing things to Poland. Does that make sense?
"Certainly, but only if it is targeted. Ask what is needed, otherwise you will end up with warehouses full of cuddly toys and other stuff that will still be there twenty years from now."
Some people think: if I do it myself, nothing will stick to the bow.
"That is a big misconception. The aid sector is monitored extremely well, perhaps more than other sectors. A Giro555 must be transparent and professional, because they receive money from donations. And yes, part of the money then goes to a good accountant. Helping costs money. Making a newspaper also costs more than just printing ink and paper."
---