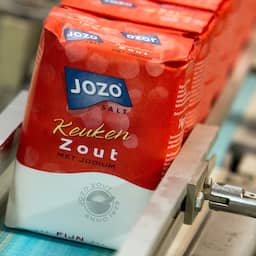 The Eindhoven company Cellcius wants to use salt to bring residual heat from industry to homes. An investment of 1.2 million euros should help with this.
With that money, Cellcius can make the first preparations for a trial in Limburg next year. The Eindhoven company wants to use residual heat from the Chemelot industrial complex to supply fifty households in Sittard-Geleen with residual heat.
Cellcius does this by storing the residual heat from Chemelot in salt and then transporting it to homes. The battery was conceived and developed by Olaf Adan, professor of applied physics at TU/e ​​and principal investigator at TNO.
'Better than heat networks'
The principle behind the salt battery that Adan developed is something like this: if you let dry, warm air pass Cellcius' modified salt grains, the grains store that heat. When you later run cold water through it, the grains release their heat again.
According to Cellcius, this method is better than heat networks, because they lose a lot of heat during the transport of water, especially if that water is transported far away. The Cellcius battery does not lose energy and the salt grains are reusable.
To trust
Several investors have now expressed their confidence in the Eindhoven salt battery. The province borrowed 350,000 euros via the Brabant start-up Fund. Together with investments from, among others, the Brabant Development Company (BOM), Innovation Industries and Goeiegrutten, the total amount raised by Cellcius comes to 1.2 million euros.
"The financing is sufficient to carry out our activities in the coming period, including the preparation of the trial in Limburg", says Cellcius director Evert Rietdijk. Cellcius will need even more funding early next year to actually build the equipment for the trial.
---