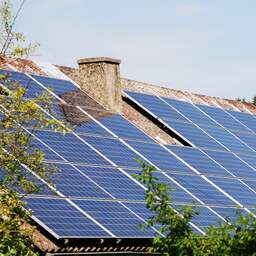 Energy suppliers are increasingly offering dynamic rates in addition to fixed and variable rates. What are those, dynamic rates? And what good is it?
If the electricity rates depend on the amount of sun and wind at that moment, we call them dynamic and they differ per hour. When there is a lot of wind and the sun shines, energy prices are lower: the supply of generated energy is high. Anyone who uses energy when there is a lot of sunlight or a strong wind can therefore save money. It is also possible that you pay more money if you do not respond to the weather conditions.
Note the number of clouds in the sky
Professor of energy economics Machiel Mulder thinks that energy rates will become increasingly dynamic in the future. "You can already see that in the increase in the number of solar panels in the street. More and more energy suppliers will offer dynamic contracts, which creates a snowball effect." However, he does not think that every consumer an energy contract with dynamic rates. "Many people have a preference for fixed rates, so fixed rates will also continue to be popular."
Researcher Sanne Akerboom thinks we are moving towards a future in which there are many different energy contracts and therefore different rates. "It is difficult to estimate how the climate will develop, but in general the more extreme the wind and the warmer the sun, the more dependent we become on dynamic rates. We will pay much more attention to the number of clouds in the sky ."
Saving hundreds of euros a year
Mulder thinks that dynamic rates are especially interesting for people who have a lot of things that consume or produce electricity, such as an electric car, stove, heat pump and solar panels. "You can easily save hundreds of euros per year. If you don't have that, you save about 50 euros per year in energy costs.
Gain insight into your energy consumption
All households have or will receive a smart meter from their grid operator. That is a device in your meter cupboard. If you have a dynamic contract, that meter is even more important. The digital measuring equipment provides insight into your energy consumption on a quarterly basis. It is automatically read by the energy supplier, who then passes on your costs.
The ANWB conducted research into the financial consequences of dynamic rates. According to the organization, dynamic energy prices do not mean that you will be faced with surprises every month. Most providers of dynamic energy contracts work with fixed advance amounts, so you pay the same every month.
Figures on dynamic energy contracts show that a dynamic contract between 2018 and May 2022 was about EUR 145 cheaper per year than a contract with a traditional energy company.
"If people continue to use as much electricity as they do now, we will continue to depend on gas plants for our energy."
Machiel Mulder, professor of energy economics
If you want to do your bit against climate change, dynamic tariffs can offer a solution, says Mulder. "Thanks to the dynamic rates, we can ensure that people use less electricity. If people continue to use the same amount of electricity as before, we will continue to depend on gas plants for our energy. And that is of course bad for the environment."
According to Akerboom, whether or not to opt for dynamic rates is mainly a question of money. "You have to be really motivated to save money and enjoy it. If you have three kids and don't feel like waiting to do your laundry, I wouldn't recommend it."
We do not have permission for the necessary cookies. Please accept the cookies to view this content.
---