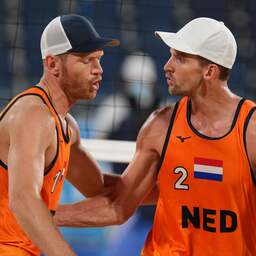 Beach volleyball players Alexander Brouwer and Robert Meeuwsen were eliminated on Thursday in the quarterfinals of the World Cup in Rome. The duo lost in three sets to the Americans Chaim Schalk and Theodore Brunner (21-16, 16-21 and 15-12), as a result of which there are no longer any Dutch players active in the tournament.
The experienced Brouwer and Meeuwsen, who were the first and so far the last Dutchmen to ever win the world title in 2013, were placed third in the Italian capital. They were therefore slightly favorite against Schalk and Brunner, but did not live up to that.
In the first set, the Americans took 15-15 distance from Brouwer and Meeuwsen and took the set. The Dutch fought back in the second set by running out to 14-11. At 20-16 they use the first set point.
In the decisive third set, Schalk and Brunner led 3-0. Brouwer and Meeuwsen came back to 10-9, but then saw the Americans run out again. On 14-12, Meeuwsen hit the serve into the net and with that elimination was a fact.
We made a lot of mistakes
After the defeat, the 32-year-old Brouwer and the two-year-older Meeuwsen were very disappointed. "We made a lot of mistakes and didn't really come into play defensively," said Brouwer at Ziggo Sport.
"I'm glad we turned it around in the second set, but in the third set we were behind. We came back for a while, but then gave it away."
Meeuwsen said it just wasn't enough. "We were perhaps too eager, especially if things are not going well. We had some chances, but if you don't make them then it will be difficult."
---