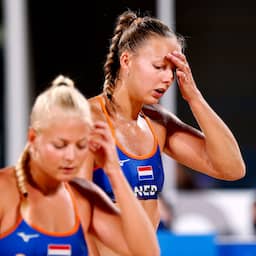 Katja Stam and Raïsa Schoon were eliminated on Thursday at the beach volleyball World Cup in Rome. The Dutch duo, which is first in the world ranking, surprisingly lost in the eighth finals in two sets (21-15 and 23-21) against Taliqua Clancy and Mariafe Artacho Del Solar from Australia.
Due to the elimination of Stam and Schoon, there are no longer any Dutch teams active in the women's tournament. Among the men, the duo Alexander Brouwer/Robert Meeuwsen is the only remaining trump card. They will play the eighth finals on Thursday evening against the Italians Lupo and Ranghieri. Earlier, the duos Immers/Boermans, Luini/Penninga and Varenhorst/Van de Velde went home.
Stam and Schoon have so far won all matches at the World Cup without losing a set and were a contender for the world title, but things went wrong in the eighth finals
The Dutch women were behind Clancy and Del Solar in the first set almost from the start and lost 21-15. The second set seemed to go to Stam and Schoon for a long time. At 20-18, the Dutch women had two set points, but they lost them. The set ended 23-21 in favor of the Australian women.
The Beach Volleyball World Cup lasts until Sunday. At the previous edition (in 2019), the Russians Oleg Vladislavovich and Viacheslav Krasilnikov won in the men. In the women's race there was gold for Sarah Pavan and Melissa Humana-Paredes from Canada. In 2013, Brouwer and Meeuwsen took gold and that is still the only Dutch world title.
---