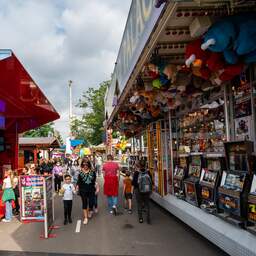 The Nijmegen summer fair will return to the city center next week after two canceled editions. This time not on Plein 1944, but on the Waalkade, in the Hoogstraat and next to Kelfkensbos.
From 18 to 26 June, there will be sixteen attractions and four stalls in these places. That is more than during the last summer fair in 2019. Then there were eleven attractions and five stalls on Plein 1944.
Again low-stimulus hour
Especially for people who love the fair but are easily overstimulated, a low-stimulus fair will also be set up this year. On Wednesday 22 June, the attractions will make less noise between 1 p.m. and 2 p.m. The flashing lights go out as much as possible and the speed of the attractions decreases.
"We serve a significant target group with this. The fact that it is only an hour is also due to the operators. For them, the low-stimulus moment is less commercially interesting. Expansion may be an option in the future, when it gets busier." says a city spokesperson.
Market stalls elsewhere, companies accessible
Little will change for the activity around the fairgrounds. Homes and businesses will remain accessible and the market will continue at the usual locations. Some stalls at the top of Burchtstraat are in a different location during the fair.
The fair is daily from 1:00 PM to 11:00 PM and on weekends until midnight. There is also a funfair in the autumn, from 19 to 26 October.
---