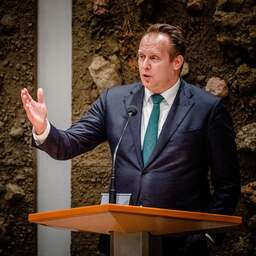 After all the fuss over the past weekend, the ruling party CDA no longer agrees with the cabinet's plans to solve the nitrogen problem. "It is not under discussion within the CDA that something should be done, but we will argue for adjustments," said party chairman of the House of Representatives Pieter Heerma on Tuesday. NOS†
There are other ways to reduce nitrogen precipitation, for example through innovation, says Heerma. He also believes that other sectors, such as aviation and industry, should be looked at to reduce emissions.
He says he spoke a lot with CDA members in the provinces last weekend. This showed that there is a lot of criticism about the lack of prospects for farmers. "The whole picture has to be seen," said Heerma.
On Friday, the cabinet announced the long-awaited nitrogen plans per area. In some regions, nitrogen emissions must be reduced by 70 percent. This inevitably means a significant reduction in livestock. All in all, there should be a 50 percent reduction in 2030 compared to 2018.
It sparked strong reactions and protests. Angry farmers appeared on tractors in front of the house of minister Christianne van der Wal (Nitrogen and Nature), among others. The VVD supporters also joined the resistance, an exceptional step for the liberals.
Minister and prime minister stick to presented plans
But both Van der Wal and Prime Minister Mark Rutte emphasized in recent days that the plans will be implemented as presented on Friday. It is not yet clear what the resistance means for the plans.
The nitrogen problem and how it should be solved has been heatedly discussed for three years now. The Council of State wiped the nitrogen policy off the table in 2019. The construction of houses and other economic activities came to a standstill because the permits were no longer valid.
The previous cabinet had a lot of research done and eventually passed a law to strengthen nature and reduce nitrogen emissions in order to get the permit granting going again.
Measures do not protect nature areas well enough
But the measures proved to be insufficient to protect the vulnerable nature areas. For example, the maximum speed on the motorway was reduced from 130 to 100 kilometers per hour with much fanfare, but that measure also failed in court. Innovation, which the agricultural industry has been pointing out for years and which Heerma also started on Tuesday as a solution to nature problems, does not always work.
For example, RIVM concluded last week that licensing for so-called sustainable livestock sheds is not appropriate. The promised innovation on paper does not work in practice, according to the institute.
---