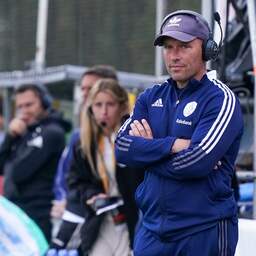 Jeroen Delmée set a record on Saturday by winning his twelfth game as national hockey coach in Germany. The Dutch team settled with the home country 3-2. Earlier in the afternoon, the hockey players also won in Germany with the same numbers.
Thanks to the victory on the bone-dry field in the Am Pfeilshof Stadium, Delmeé is the first national coach to be unbeaten in the first matches as national team coach of the hockey men. Jules Ancion went unbeaten in his first 11 games in 1970.
The Dutch team had a false start in Germany. The Germans took the lead via a striking penalty corner variant by Mats Grambusch, after which the Netherlands took the lead via goals from Tim Swaen and Joep de Mol. The defender made the fiftieth goal led by Delmée.
Germany fought back in the third quarter via another good penalty corner. Nevertheless, the Netherlands ended the game with a win by Koen Bijen. The attacker of Den Bosch tapped the ball behind the German keeper on a pass from Dennis Warmerdam: 2-3.
The great series of Orange is logically reflected in the position of the Pro League, in which the Netherlands is the leader. In addition, Delmée's team has played the fewest matches of all participants and there is the possibility to expand the lead in the coming period.
Top six Pro League men
1. Netherlands: 11-31 (+31) 2. India: 13-29 (+24) 3. Belgium: 13-28 (+21) 4. Germany: 15-25 (+1) 5. Argentina: 16- 25 (-4) 6. England: 14-22 (+4)
Hockey players show resilience
The Dutch women had a disastrous start on the bone-dry field in the Am Pfeilshof Stadium. After six minutes, Germany broke the spell via Sara Strauss, after which Sonja Zimmermann doubled the German lead after more than twenty minutes from a penalty shot.
In the third quarter, the Netherlands, which took office with its strongest players, completely cleared the gap. Felice Albers scored after a nice attack with her backhand and star player Lidewij Welten made it 2-2 after she had outplayed the German keeper.
The Netherlands went on the hunt for the winning goal in the fourth and final quarter and received wages for work. Frédérique Matla pushed in the 2-3 six minutes before the end, while she had left the field a few minutes earlier with a head injury.
With the win, the Netherlands is three points behind leaders Argentina. The gap between the two teams is nine points, although the Argentine women, who are already certain of the overall victory, have played one more game. On Sunday, the Netherlands will play again against Germany.
The games in the Pro League mainly serve as preparation for the most important tournament of this year: the world championship. The Netherlands are defending champions at the tournament, which will be played in their own country and in Spain next month.
Top six Pro League women
1. Argentina: 14-38 (+24) 2. Netherlands: 13-29 (+17) 3. Spain: 15-18 (-4) 4. India: 8-16 (+8) 5. Germany: 13- 16 (+4) 6. England: 12-15 (-7)
---