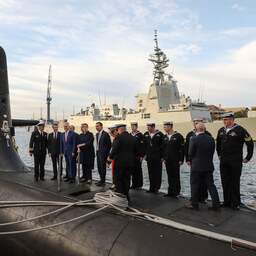 Australia and the French defense conglomerate Naval Group have reached an agreement to cancel a contract to build submarines. Prime Minister Anthony Albanese says the French company has agreed to a "fair and equitable settlement" of €555 million to end the multi-billion dollar contract.
Australia was originally going to sign a contract for the construction of twelve submarines worth €31 billion, but later dropped it. There was a lot of fuss about this from the French side.
Australia had already made agreements in 2016 about the purchase of the submarines. The country later complained about delays and cost overruns. The Australians withdrew from the project after secret negotiations with the United States and the United Kingdom. The three countries entered into a new partnership that made the purchase of the French submarines unnecessary.
France reacted furiously and spoke of a stab in the back. Naval Group CEO Pierre Eric Pommellet said costs incurred would be recovered from the Australians.
---