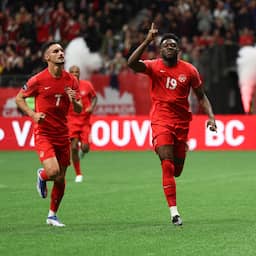 Canada booked a simple 4-0 win in the Nations League game with Curaçao in the night from Thursday to Friday (Dutch time). It was Canada's first game after going on strike amid dissatisfaction with the Football Association's rewards.
At halftime it was already 2-0 thanks to a penalty from Bayern Munich defender Alphonso Davies and a goal from Steven Vitoria. After the break, Davies was again accurate and Lucas Cavallini determined the final score in Vancouver at 4-0.
At the Curaçao of national coach Art Langeler, (former) Eredivisie players Eloy Room, Jurien Gaari, Vuron Anita, Juninho Bacuna and Elson Hooi, among others, had a basic place.
For Canada, the game against Curaçao was the first appearance since the players refused to train at the end of last week and canceled a friendly game with Panama. According to the Canadian players, the rewards are too limited, while the team managed to qualify for the World Cup for the first time in 36 years.
The players spoke of a "disrespect" from the Canadian Football Association. Both parties have resumed talks after the strike, but no agreement has yet been reached. Despite this, the players were back on the field against Curaçao.
At the Nations League for countries from North and Central America and the Caribbean, the four group winners in division A go to a final round. In addition, just like the group winners from the lower divisions, they can participate in the Gold Cup.
Standings in Group C (Division A)
1. Canada 1-3 (+4) 2. Honduras 2-3 (-) 3. Curaçao 3-3 (-4)
---